Get boosted | No progress in strike talks | Amazon unsafe | Kojak at 100
Friday, January 21, 2022
---
COVID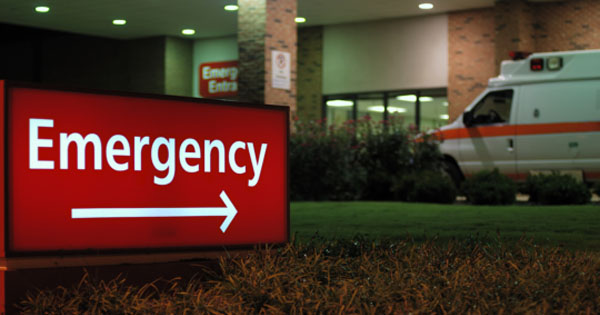 ► From the Tri-City Herald — 1,200+ new COVID cases in Tri-Cities area in 1 day. Hospitals getting slammed — "These are almost all unvaccinated and unboosted."
MORE local coverage in today's Bellingham Herald, (Longview) Daily News, Spokesman-Review, and the union-busting (Vancouver) Columbian.
► From KXLY — National Guard set to arrive at Sacred Heart Medical Center Friday — Their deployment is part of a statewide effort to help hospitals struggling during the Omicron surge.
► From the Peninsula Daily News — Worker shortage at area hospitals — Hundreds of job openings remain unfilled at the North Olympic Peninsula's three public hospitals as COVID-19 fills beds and takes out health care professionals. Olympic Medical Center, Jefferson Healthcare hospital and Forks Community Hospital (FCH) officials are grappling with a combined 349 openings, including 236 at OMC, 113 at Jefferson Healthcare and 38 at FCH, they said this week.
EDITOR'S NOTE — ICYMI, here's why a new safe staffing standard in Washington state would help protect healthcare workers and ensure patients get the care they deserve.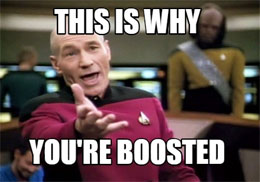 ► From The Hill — CDC: Unvaccinated seniors 50 times more likely to be hospitalized than those with boosters — The data show that unvaccinated seniors and older are 49 times more likely to go to the hospital than those that have been boosted. Similarly, unvaccinated adults ages 50-64 are 44 times more likely to go to the hospital compared to their vaccinated and booster counterparts, according to the data.
► From the Spokesman-Review — Truth-test: McMorris Rodgers claims masking guidance is based on 'junk science,' but many respected studies show benefits of masks — Rep. Cathy McMorris Rogers accused the CDC on Thursday of using "junk science" to justify rules requiring schoolchildren wear masks. Numerous studies have shown that universal masking, in addition to other mitigation strategies such as better air circulation and distancing, limits the spread of COVID in schools and other settings where people gather.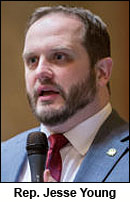 ► From the News Tribune — A COVID-19 conspiracy ran rampant last week. 2 Pierce County lawmakers helped it spread. — Last week, dozens of angry protesters gathered in Tumwater, converging on the state Board of Health's regularly scheduled Jan. 12 meeting. Many were drawn there by a false rumor gone viral: A claim that state officials were on the verge of setting up forced quarantine facilities for those who refuse COVID-19 vaccinations. None of it was true, of course. Never was. Two prominent Pierce County elected officials share responsibility for helping the dangerous conspiracy spread: Rep. Jesse Young (R-Gig Harbor) and Republican Pierce County Council member Amy Cruver.
---
LOCAL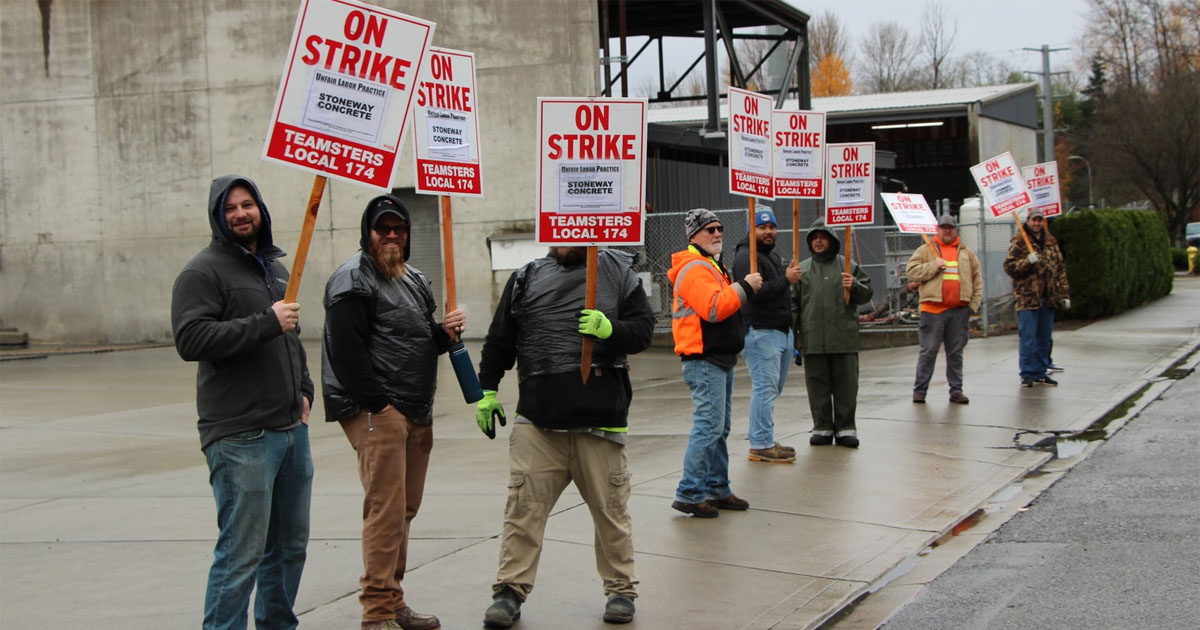 ► From Teamsters 174 — No progress towards resolution of Teamsters 174 construction strike — The strike by 330 Teamsters at six companies in the construction industry will be continuing after Thursday's failed mediation session yielded no progress. The rank-and-file bargaining committee and their union representatives from Teamsters Local 174 arrived ready to make headway, armed with a willingness to talk through and work around key disagreements. The employer representatives, however, did not. As a result, the meeting went nowhere and the two sides are no closer to an agreement that would put an end to the strike that has gone on for over two months now.
► From KIRO — Seattle-area concrete worker strike continues following failed session with federal mediator — Prior to Thursday, the union had said they are ready to go back to the bargaining table any time, but that the employers had made a final offer that was 25% below other construction industry contracts.
► From the Kitsap Sun — Kitsap Transit warns that it may cancel ferry sailings because of staffing issues — Kitsap Transit cautioned ferry riders that it may need to cut sailings "in the near future" because of crew shortages. The agency said it has seen a "rising number" of crew callouts because of COVID-19 exposures and required isolation periods.
► From the (Everett) Herald — Ballots sent for special election on public schools' funding — Levies to pay for staff, programs, computers and capital projects are on the Feb. 8 ballot across Snohomish County.
► From the News Tribune — Laptops, teachers part of Tacoma school levy requests
EDITOR'S NOTE — When you have opportunities like this to support your local public schools, vote YES!
► From KOIN — Portland city trade workers vote to authorize strike — Portland city trade workers in six unions voted to authorize a strike after contract negotiations with the city were stalled for weeks. The District Council of Trade Unions announced that the unions saw a 91% member turnout with 86.17% voting to authorize the strike.
---
THIS WASHINGTON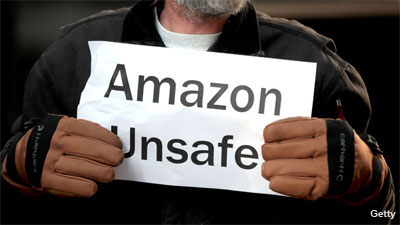 ► From My Northwest — Amazon continues to run afoul of state regulators over safety conditions in warehouses — Newly-released public records reveal that the state Department of Labor & Industries (L&I) issued a citation to Amazon in December regarding conditions in one of the company's warehouses. The records detail how "the pace of work" at an Amazon warehouse in Sumner, Wash., "does not leave enough time for workers to use equipment intended to make the work safer." L&I went on to warn that the resulting hazards "are causing or [are] likely to cause serious injury," pointing out that the Sumner facility has a musculoskeletal injury rate "about 2 to 2.5 times higher than the warehousing industry average." As a result, the state is fining Amazon $7,000, and giving it until Feb. 2 to submit a "detailed written initial plan" on how it intends implement changes to conditions inside the Sumner warehouse.
EDITOR'S NOTE — Washington warehouse workers would gain basic safety protections in an effort to prevent increasing on-the-job injury rates, under a bill filed Tuesday by Sen. Steve Conway (D-Tacoma). SB 5891 would prohibit quotas that prevent workers from being able to go to the bathroom or taking meal or rest breaks. It would also require that businesses are honest and transparent about quotas with workers and safety regulators. Learn more.
► From the Seattle Times — WA Supreme Court upholds $18M campaign finance fine against grocery industry group — Writing for the majority, Chief Justice Steven González said the Grocery Manufacturers Association's efforts to conceal the identity of corporations bankrolling its 2013 campaign "struck at the core of open and transparent elections."
► From the Seattle Times — Restaurant workers go 'missing' again from Washington's job recovery — After seeing a modest hiring spree in October and November, the industry suffered a net loss of 2,200 jobs in December, or 0.7% of its already undersized workforce, the ESD reported.
---
THAT WASHINGTON
► From the AFL-CIO — Union membership numbers reflect broken labor laws — Today's Bureau of Labor Statistics (BLS) annual report on union membership makes it clear that American labor laws are unquestionably broken. While the report indicates a 0.5% drop in union membership from 2020–2021, the data is not representative of the greater union trends taking place across the country. These statistics highlight the urgent need for the passage of the Protecting the Right to Organize (PRO) Act and the Public Service Freedom to Negotiate Act. AFL-CIO President Liz Shuler:
"In 2021, workers forcefully rejected low-wage, thankless jobs after a year of being called essential. In light of the COVID-19 pandemic, it is clearer now than ever that our labor laws are designed to make joining a union as difficult as possible. Across this country, workers are organizing for a voice on the job and millions of Americans are standing in solidarity with union members on strike. If everyone who wanted to join a union was able to do so, membership would skyrocket. The PRO Act and the Public Service Freedom to Negotiate Act are how we get there."
The Stand (Jan. 20) — Unions post big gains in Washington state — Although union membership in Washington state grew substantially in 2021, WSLC President Larry Brown said, "At a national level, these 2021 numbers are a wake-up call… It shouldn't be so hard to join together and demand a better life."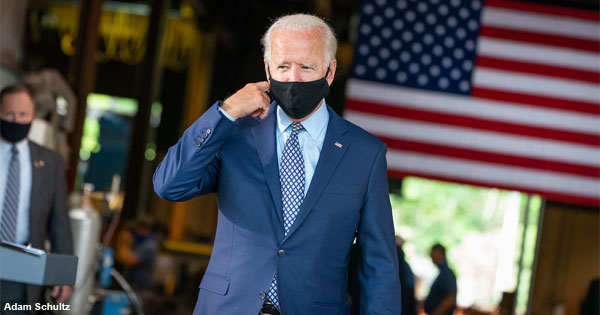 ► From NBC News — Biden's vow to be 'most pro-union president' tested in first year — The start of President Joe Biden's second year in office comes with new opportunities to deliver on his commitment to be pro-labor. Despite some success and strong support, he was unable to deliver on some key worker legislation in his first year. Biden scored key wins with the American Rescue Plan and the bipartisan infrastructure law, both of which were championed by unions. However, Biden's pro-labor stance also faced serious congressional setbacks in his first year. A major piece of legislation, the Protecting the Right to Organize Act, has failed to move in the Senate after it passed in the House.
► From The Hill — Biden's $15 minimum wage hike for federal agencies goes into effect — Federal agencies were directed to implement President Biden's $15 an hour minimum wage for government workers on Friday. The rule is set to take full effect on Jan. 30. The higher wage will impact 70,000 workers from mainly the Defense Department, Department of Agriculture, and Department of Veterans Affairs, according to OPM.
---
NATIONAL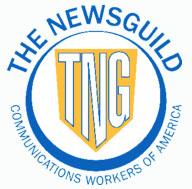 ► From Nieman Reports — Newsrooms are unionizing pretty much 'nonstop.' Here's why. — spurred by layoffs, increasing workloads, and even the pandemic, more than 100 news organizations have unionized, swelling the ranks of The NewsGuild, which has added about 6,300 new members over the past four years, and the Writers Guild of America, East, which has organized about 2,400 journalists since 2016. For these journalists, unionization has often meant higher minimum salaries, regularly scheduled raises, improved health coverage, greater protections against dismissal, and increased severance pay. The new unions have also pushed to increase diversity in newsrooms and eliminate pay gaps hurting women and minority journalists. Says NewsGuild President Jon Schleuss:
"People see other campaigns winning unionization votes and winning good contracts. That has helped this spread like a wildfire, with people asking, 'Would a union be possible here?'"
EDITOR'S NOTE — A union is possible! Get more information about how you can join together with co-workers and negotiate a fair return for your hard work. Or go ahead and contact a union organizer today!
► From ABC News — BNSF railroad tries to block 17,000 workers from striking — BNSF railroad wants a federal judge to prevent two of its unions from going on strike next month over a new attendance policy that would penalize employees for missing work. The Fort Worth, Texas-based railroad went to court after the BLET and the Transportation Division of SMART both threatened to strike over the new policy that is set to go into effect on Feb. 1.
► From the AP — Intel building $20B Ohio chip facility amid global shortage — Intel will invest $20 billion in a new computer chip facility in Ohio amid a global shortage of microprocessors used in everything from phones and cars to video games. After years of heavy reliance on Asia for the production of computer chips, vulnerability to shortages of the crucial components was exposed in the U.S. and Europe as they began to emerge economically from the pandemic.
► From the Spokesman-Review — Chicago Public Media acquiring Chicago Sun-Times as nonprofit newsroom — The move will combine the long-struggling daily newspaper with resurgent public radio station WBEZ-FM 91.5 as one nonprofit multimedia newsroom.
---
T.G.I.F.
► Actor Telly Savalas, best known as the '70s lollipop-sucking TV police detective Kojak, would have turned 100 years old today. The Entire Staff of The Stand honors his memory by presenting Telly's classic spoken-word rendition of "If." Inexplicably, it was No. 1 on the UK singles chart in March 1975, besting the likes of David Bowie's "Young Americans" and Elton John's "Philadelphia Freedom." Watch as he smokes and drinks his way right into a woman's heart, compelling her to roll right over the ashtray into his arms. Good stuff.
---
The Stand posts links to Washington state and national news of interest every weekday morning by 10 a.m.
WASHINGTON IS A UNION STATE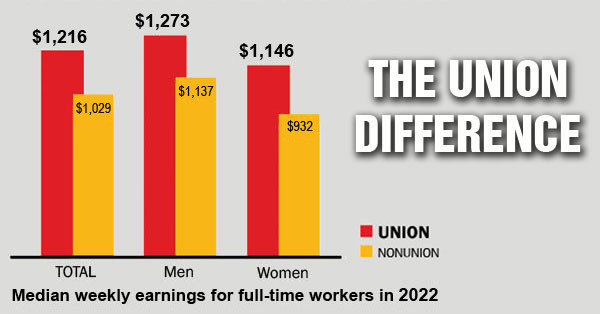 CHECK OUT THE UNION DIFFERENCE in Washington state: higher wages, affordable health and dental care, job and retirement security.
FIND OUT HOW TO JOIN TOGETHER with your co-workers to negotiate for better working conditions and respect on the job. Or go ahead and contact a union organizer today!