Weyerhaeuser contract | MAX boost | Fed vs. workers | We're tired
Thursday, November 3, 2022
---
LOCAL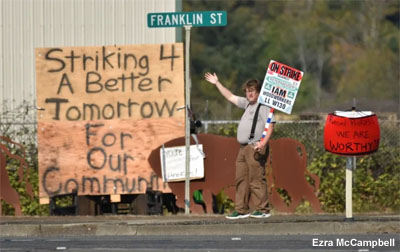 ► From the NW Labor Press — Weyerhaeuser mills reopen after 48-day Machinists strike — Weyerhaeuser workers across Oregon and Washington returned to work with a new union contract Oct. 31—after a 48-day strike that cost the company well over $50 million. The four-year collective bargaining agreement was narrowly approved at in-person union meetings held October 25 to 27 in Centralia, Raymond, and Longview, Wash., and Springfield, Santiam, and North Bend, Ore. The new agreement covers 1,192 workers at four sawmills, two log export facilities, two statewide log truck operations, and seven logging camps. They're members of four woodworker locals of the International Association of Machinists. It raises wages 14% over the four years, starting with a 5.5% increase retroactive to June 1. Wages at Weyerhaeuser average about $26 an hour. The agreement also includes a $3,000 signing bonus.
The Stand (Oct. 28) — IAM members ratify Weyerhaeuser contract — 46-day strike ends as union votes to accept improved 4-year deal.
► From the Wenatchee World — Wenatchee's Confluence Health pauses hiring of non-clinical positions — Confluence Health announced Monday they would pause most of their non-clinical staff hiring in an effort to reduce overhead expenses.
---
SOUTH OF THE BORDER

► From the NW Labor Press — Northwest Starbucks workers prepare to bargain — New organizing has slowed at Northwest Starbucks stores in recent months, and the campaign is entering a new phase: In Oregon and Washington, union shops have bargaining dates set throughout November and early December. Altogether, there are now 23 union Starbucks locations in Oregon and 16 in Washington. Each is represented by Workers United, an affiliate of SEIU.
► From the NW Labor Press — A second New Seasons store votes to unionize — About 120 workers at New Seasons' "Slabtown" store at 2170 NW Raleigh St. have joined the New Seasons Labor Union, just a month after the brand-new independent labor organization won its first election at the Seven Corners store on Southeast Division Street.
► From the NW Labor Press — Tentative agreement at Multnomah County — AFSCME Local 88 and Multnomah County have negotiated a contract that about 2,800 union members will have the chance to vote on from Nov. 7 through Nov. 14. If approved, the contract would bring a 5% cost-of-living adjustment retroactive to July 1, along with a $2,500 immediate bonus.
EDITOR'S NOTE — For more great labor news in Oregon and Southwest Washington, subscribe to the Northwest Labor Press!
---
EAST OF THE BORDER




► From the Spokesman-Review — $1 billion project would expand I-90 from Washington border to Coeur d'Alene — Interstate 90 is already congested in the Coeur d'Alene metro area, and traffic volumes are expected to double by 2045. The Idaho Transportation Department is looking to reduce that congestion to the tune of a $1 billion multiphase project that would add lanes to the interstate from the Washington border to Coeur d'Alene. Other improvements are also proposed to make the freeway safer and more efficient.
---
AEROSPACE



► From the PS Business Journal — Boeing substantially ups production forecast for 737 MAX — Boeing plans to increase production on the Renton-built 737 MAX by at least 60% by the middle of the decade. While the production ramp up on the program has gone slower than originally expected, Boeing leaders said on Wednesday during its investors conference that output on the Max will rise from the current rate of 31 per month to 50 per month by 2025 or 2026.
► From the Seattle Times — Pitching investors, Boeing projects short-term pain, then stability — Boeing CEO Dave Calhoun said Boeing will not deliver to airlines its next all-new commercial jet until the middle of the 2030s, implying that no such plane will be launched for development until late this decade.
---
ANTITRUST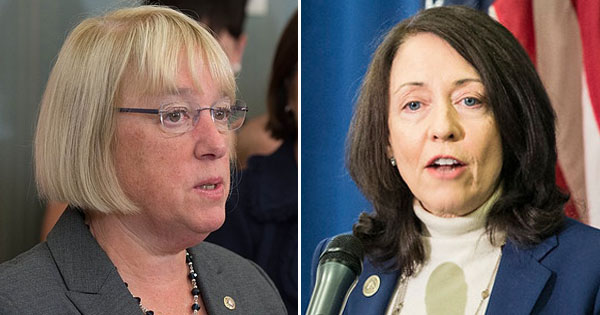 ► From the union-busting Columbian — Kroger-Albertsons merger: Sens. Murray, Cantwell say plan a threat to consumers — Criticism is mounting locally and around the state to the announced merger between Kroger, parent company of Fred Meyer and QFC, and Albertsons, parent company of Albertsons and Safeway. Washington's two U.S. senators, Democrats Patty Murray and Maria Cantwell, submitted a letter to Lina Khan, chair of the Federal Trade Commission, on Tuesday. "The merger poses a specific and disproportionate threat to Washington consumers, workers and our underserved communities," the senators wrote.
The Stand (Nov. 2) — State sues to block Albertsons cash-out with merger pending — AG Bob Ferguson aims to stop grocer's $4 billion shareholder payout as anti-trust regulators consider Kroger merger; Sens. Murray and Cantwell also express opposition.
► From the Wall Street Journal — Kroger-Albertsons merger draws questions from politicians, workers — Elected officials, independent grocers and union groups are airing concerns and in some cases pushing back on the proposed deal between Kroger and Albertsons as antitrust officials are set to begin reviewing the supermarket megamerger. Antitrust attorneys expect the deal to face a lengthy regulatory review, and the companies plan to submit details of their merger plan to the FTC around Thursday.
---
THAT WASHINGTON
► From the AFL-CIO — AFL-CIO: Federal Reserve's interest rate hike devastating for working people — Statement from AFL-CIO President Liz Shuler on the Federal Reserve's decision to increase interest rates:
"The Federal Reserve's decision today to raise interest rates by .75% will have a direct and harmful impact on working people and our families. The Fed's actions will not address the underlying causes of inflation—the war in Ukraine, climate change's effect on harvests and corporate profits, and an increase in the chances that the United States enters a recession. The Fed seems determined to raise interest rates, though it openly admits those rates could ruin our current economy as unemployment remains low and people are able to find jobs… Working people should not be the target of lowering inflation—it should be corporations that are earning record profits."
► From The Hill — AFL-CIO bashes Federal Reserve over rate hike — AFL-CIO President Liz Shuler's remarks come after Fed officials raised interest rates by three-quarters of a percentage point, the sixth rate hike since the Fed ramped up its efforts to slow the economy and tame inflation in March.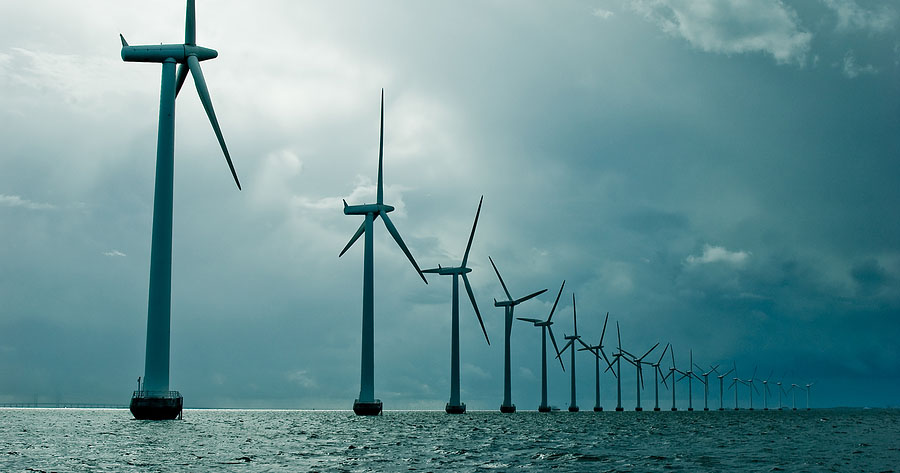 ► From Roll Call — Offshore energy battle looms over 'must pass' defense bill — House-passed legislation attached to that chamber's version of the National Defense Authorization Act would require the use of U.S. crews or similarly paid workers on foreign vessels servicing offshore energy projects. The idea is that by barring cheaper labor from low-wage countries, U.S. offshore services firms can better compete on price and ultimately drive more domestic shipbuilding. But powerful forces working against the measure have kept it out of the Senate's NDAA, with both sides scrambling to influence the post-election outcome.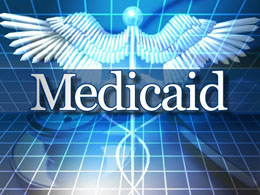 ► From Vox — The nightmarish Supreme Court case that could gut Medicaid, explained — On Tuesday, as millions of Americans cast their ballots in the 2022 midterms, the Supreme Court will hear oral arguments in what could be one of the most consequential health care cases in its history. The defendants in Health and Hospital Corporation of Marion County v. Talevski are asking the justices to fundamentally rework the Medicaid program, which provides health care to over 76 million low-income Americans. Should the defendants prevail, these tens of millions of patients could effectively be stripped of legal safeguards intended to guarantee them a certain quality of care. In some cases, individual patients may lose their health coverage altogether due to Talevski.
---
NATIONAL
► From the LA Times — Politics is flooded with cash. Divert more of it to young campaign workers. (by Ronnie Cho) — The current generation of smart, energetic and idealistic young people — the kind of people drawn to work in politics — understandably want livable salaries, healthcare and some semblance of work-life balance. Modern campaigns could afford to provide all of that. There's never been more money in politics. It's just a question of priorities.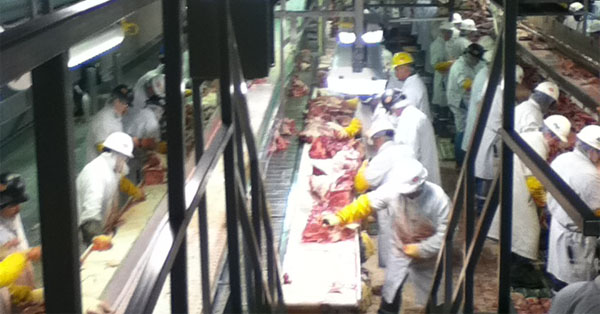 ► From Vice — Big meat companies want to use smartwatches to track workers' every move — JBS and Tyson Foods reportedly have backed Mentore, a start-up that claims it uses surveillance data and AI to improve worker productivity and reduce workplace injuries. Once paired with a compatible smartwatch, Mentore's application uses sensors to collect data on the force, rotation, speed, and directional movement of a worker's arm as they repeatedly complete the same task. The move mirrors similar controversial tracking practices that many other companies, including Amazon, have tried to implement over the years in a bid to increase worker productivity. 
► From The Guardian — Canadian bill would fine workers $4,000 for each day they strike — Justin Trudeau has sharply criticized Ontario legislation tabled by Doug Ford's conservative provincial government.
---
TODAY'S MUST-READ
► From the LA Times — Worker productivity has fallen, and experts are puzzled. I'm not. We're all just tired. (by Mary McNamara) — Many of us are exhausted and perhaps a bit angry: about how companies that instantly offloaded so many employees (during COVID) with little or no severance are acting so surprised that new workers aren't flooding back; about how we've been working so hard for the same or, thanks to inflation, less money. Or did I miss my Bureau of Labor Statistics increased national productivity bonus last year? … This country, this world, has been through a lot in the last few years — is going through a lot at this very minute. I don't know if we need a national day of mourning or celebration, but we need something, personally or collectively, to acknowledge the complicated and often conflicting experience of surviving a pandemic. What we don't need is a bunch of people wondering why we're being less productive in the workplace as if the answer weren't right in front of them.
---
The Stand posts links to Washington state and national news of interest every weekday morning by 10 a.m.
Short URL: https://www.thestand.org/?p=112485
Posted by
David Groves
on Nov 3 2022. Filed under
DAILY LINKS
. You can follow any responses to this entry through the
RSS 2.0
. Both comments and pings are currently closed.