UW students speak out | Housing options | Amazon loses again (doesn't care)
Thursday, January 12, 2023
---
LOCAL
► From KING — UW students protest against plan to privatize off-campus housing — On Wednesday, University of Washington students met at Red Square to protest against the university's plan to turn over operations of four off-campus housing sites that cater mostly to graduate students, students with families and international students. Anne Duncan and Levin Kim, third and forth year PhD students, are leading the charge against this housing change. "I actually heard about this through my union that I was going to be directly impacted by this decision," Duncan said. She says rent will more than likely increase, something UW has confirmed will happen:
"If rent goes up to market rate, I know I'm going to be severely rent burdened or have to move an hour from the university. It would make my job and role as a student here a lot harder."
The Stand (Jan. 10) — Join UAW 4121 rally on Jan. 11 against privatized UW housing — This rally is was also in support of members of Washington State Federation of State Employees Local 1495, whose custodial and maintenance work at existing UW housing could be contracted out.
---
THIS WASHINGTON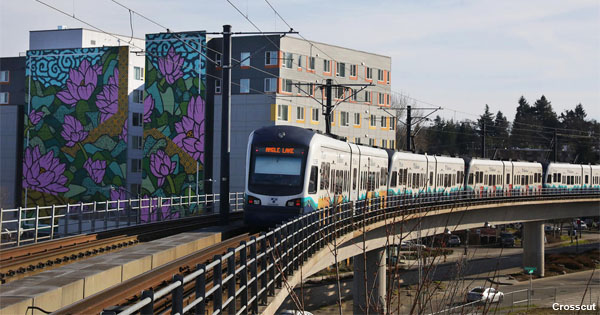 ► From Crosscut — How WA's Legislature is addressing the housing crisis in 2023 — A new survey by the Puget Sound Regional Council and the Washington Department of Commerce found housing costs and homelessness are state residents' top two issues. Officials in Olympia are taking that message to heart this legislative session. Housing and homelessness are centerpieces of Gov. Jay Inslee's agenda. He is pushing for a bond measure that would generate billions of additional dollars to speed the building of subsidized affordable housing and increase homeless services. Recognizing that there's no silver bullet for Washington's housing crisis, legislators and advocates are pushing a slew of bills meant to increase market-rate construction, subsidized affordable housing, renter protections, and housing density around transit stations.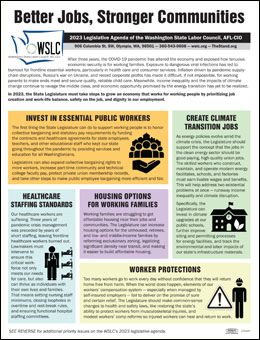 The Stand (Jan. 5) — WSLC announces 2023 agenda for state legislature — Among the legislative priorities of the Washington State Labor Council, AFL-CIO: Housing Options for Working Families. The Legislature can increase housing options for the unhoused, retirees, and low- and middle-income families by reforming exclusionary zoning, legalizing significant density near transit, and making it easier to build affordable housing.
► From the Stranger — Are we going to tax the rich or what? — Though Washington's tax code remains the most regressive in the country, Governor Jay Inslee's two-year budget proposal includes no new progressive taxes, and no new tax or fee increases at all. Meanwhile, leadership in the House and Senate hasn't been championing a particular fix in any of the recent press reviews. To be fair, it's not like Democrats have done nothing on the issue in recent years.
FROM The Calendar at The Stand — Invest in WA Now urges all to attend a rally to support the capital gains tax on the super-rich beginning at 11:30 a.m. on Thursday, Jan. 26 at the State Capitol Building in Olympia. Get details and RSVP.
► From the union-busting Columbian — Joe Kent to run for 3rd District seat in 2024 — The Republican just lost his bid to represent Southwest Washington in Congress in November.
---
THAT WASHINGTON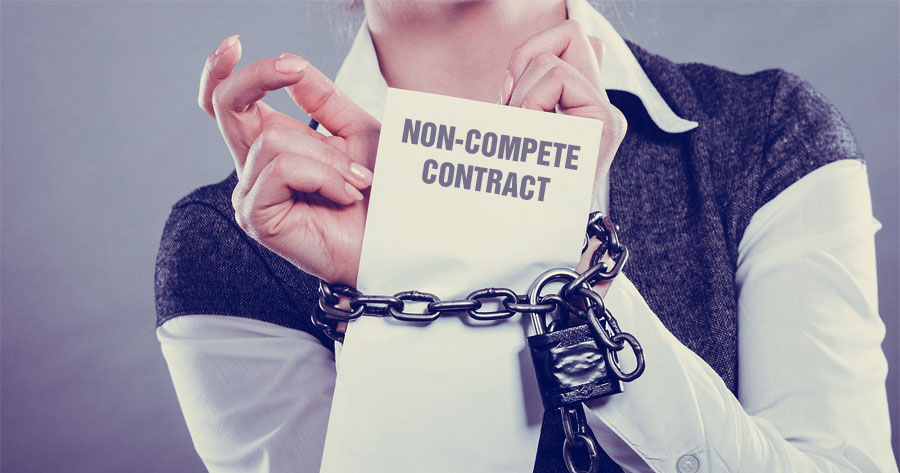 ► From Roll Call — FTC ban may be test of bipartisan opposition to noncompete clauses — A proposal from the Federal Trade Commission to ban noncompete agreements aims to correct what some say is a harmful power imbalance between companies and employees, an issue prominent enough to have won over some members of the typically pro-business Republican Party. The move, however, sets the stage for a fight — likely in the courts and potentially in Congress, if the pushback is strong — over whether the agency can legally intervene in what are essentially contracts between workers and their employers.
EDITOR'S NOTE — If you oppose government intervention in contracts between workers and their employers, then you must oppose so-called "right-to-work" laws, which prevent workers and employers from agreeing to union-security clauses in their contracts. Just sayin'.
► From Vox — House GOP's questionable attempt to shut down congressional unions, explained — In addition to the myriad changes to things like proxy voting and committee investigations, Republicans' new rules for the House include a less discussed provision: an attempt to gut staffers' ability to unionize… Union leaders emphasize that they're not put off by the Republican rules package and intend to keep on organizing offices that have already started the process, or are interested in doing so.
► From The Hill — GOP divisions over Social Security, Medicare cuts forecast tough fights ahead — House Republicans are divided over cuts to Medicare and Social Security, setting up what could be a fierce internal clash over the future of the nation's top safety net programs when Congress delves into budget fights later in the year.
► From The Hill — Inflation slowed to 6.5 percent in December: CPI
► From the AP — U.S. applications for jobless benefits lowest in 15 weeks
---
UNION ORGANIZING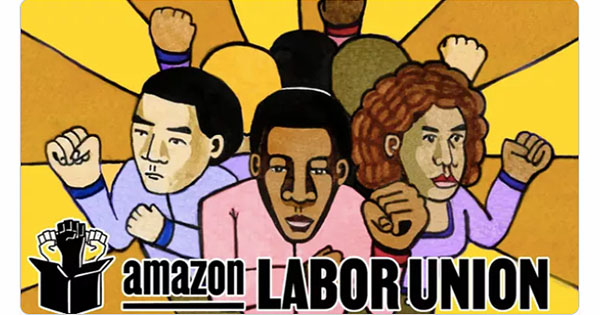 ► From Bloomberg — Amazon Labor Union's NYC victory certified by federal labor board — A federal regulator has certified an upstart union's election victory last year at an Amazon facility in New York — a ruling that the company intends to keep fighting. In the ruling Wednesday, National Labor Relations Board regional director Cornele Overstreet rejected a slew of objections from the e-commerce company, which has sought to overturn the Amazon Labor Union's win at a Staten Island site last April.
EDITOR'S NOTE — And the following paragraph from this report, in a nutshell, explains why U.S. labor laws are broken and must be fixed to restore the freedom to join together in unions:
Despite the union's latest win, the battle with Amazon isn't over. The Seattle-based company can now appeal the ruling to labor board members in Washington, where Democrats hold a majority. If it loses that appeal, it could simply refuse to negotiate with the union, setting in motion another series of complaints and appeals that could take months or years to play out.
► From Inside Higher Ed — Yale grad workers unionize at last — Graduate student instructors and researchers at Yale University voted to unionize, 1,860 to 179, they announced this week. Some 3,214 workers total were eligible to vote. The NLRB certified the election, which was years in the making. Yale's is one of academe's longest-running graduate student organizing campaigns, dating back to the 1990s.
► From HuffPost — REI union effort spreads to another city — REI workers in Northeast Ohio are aiming to make their store the third to unionize in less than a year, according to the Retail, Wholesale and Department Store Union (RWDSU). The labor group said in a statement Wednesday that a "majority" of employees at the REI store in the Cleveland suburb of Orange Village had signed union cards and submitted a petition for a union election.
EDITOR'S NOTE — Ready for a voice at work? Get more information about how you can join together with co-workers and negotiate a fair return for your hard work. Or go ahead and contact a union organizer today!
---
NATIONAL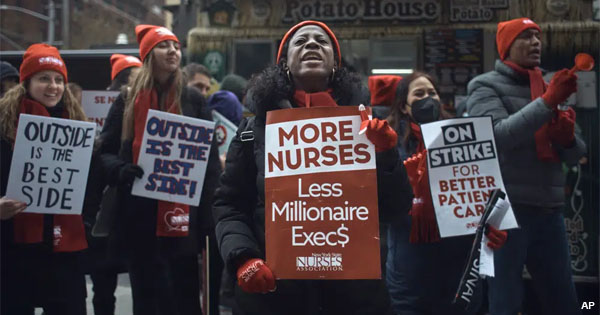 ► From the AP — Nurses at two NYC hospitals return to work as deal ends strike — Thousands of nurses at two New York City hospitals ended a three-day strike Thursday after reaching a tentative contract agreement that union officials said offers better working conditions, in addition to pay raises. The tentative deals at Mount Sinai Hospital in Manhattan and Montefiore Medical Center in the Bronx include raises totaling 19% over three years. Nurses began returning to work at both hospitals Thursday morning, with Gov. Kathy Hochul greeting returning nurses at Mount Sinai just before dawn. The agreements with the privately owned, nonprofit hospitals include concrete, enforceable staffing ratios, the union said.
► From the Washington Post — Talk of prosecuting women for abortion pills roils antiabortion movement — Alabama's attorney general became the most prominent Republican official yet to suggest that pregnant women could be prosecuted for taking abortion pills, saying in recent days that a state ban targeting those who facilitate abortions does not preclude the state from seeking to penalize women under other existing laws.

► From the Guardian — 'It's a nightmare': Twitter's New York City janitors protest over sudden layoffs — Workers received no warning before the termination of their jobs in December, shortly after Elon Musk's takeover of the company.
► From NPR — Elon Musk has lost more money than anyone in history, Guinness World Records says
---
The Stand posts links to Washington state and national news of interest every weekday morning by 10 a.m.
Short URL: https://www.thestand.org/?p=113555
Posted by
David Groves
on Jan 12 2023. Filed under
DAILY LINKS
. You can follow any responses to this entry through the
RSS 2.0
. Both comments and pings are currently closed.