Inslee: Be bold | SCOTUS looks to curb strikes | Memo to 'managers'
Wednesday, January 11, 2023
---
AEROSPACE

► BREAKING from the AP — Air travel across U.S. thrown into chaos after computer outage — The world's largest aircraft fleet was grounded for hours by a cascading outage in a government system that delayed or cancelled thousands of flights across the U.S. on Wednesday. The White House initially said that there was no evidence of a cyberattack behind the outage that ruined travel plans for millions of passengers. President Biden said Wednesday morning that he's directed the Department of Transportation to investigate. Whatever the cause, the outage revealed how dependent the world's largest economy is on air travel, and how dependent air travel is on an antiquated computer system called the Notice to Air Missions System, or NOTAM.
---
THIS WASHINGTON



► From the Spokesman-Review — 'Boldness and ambition': Inslee calls on Legislature to make big investments in housing, behavioral health — Washington needs bold and inclusive leadership and action this session to address housing, behavioral health and education crises across the state, Gov. Jay Inslee said. Inslee on Tuesday delivered his first in-person State of the State address since 2020 to members of House of Representatives and Senate, all statewide elected officials, the state Supreme Court and a number of guests.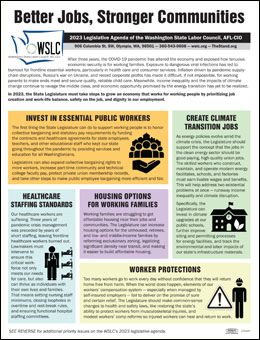 The Stand (Jan. 5) — WSLC announces 2023 agenda for state legislature — Among the legislative priorities of the Washington State Labor Council, AFL-CIO: Housing Options for Working Families. Working families are struggling to get affordable housing near their jobs and communities. The Legislature can increase housing options for the unhoused, retirees, and low- and middle-income families by reforming exclusionary zoning, legalizing significant density near transit, and making it easier to build affordable housing.
► From the Spokesman-Review — Local delegation blasts Inslee's proposed transportation budget that includes North Spokane Corridor pause as 'almost unconscionable' — Gov. Jay Inslee's proposed transportation budget could pause construction on the North Spokane Corridor, pushing the completion date back another six years. But Spokane's legislative delegation, including Senate Majority Leader Andy Billig, are against the proposal, saying it would cost taxpayers "significantly more money in the long run."
► From Q13 — DSHS changes may mean people needing mental health services could be released from jail — Hundreds of people across the state sit in jail waiting for mental health services from the state, and now officials with the Department of Social and Health Services say they may have to start refusing some patients.
---
THAT WASHINGTON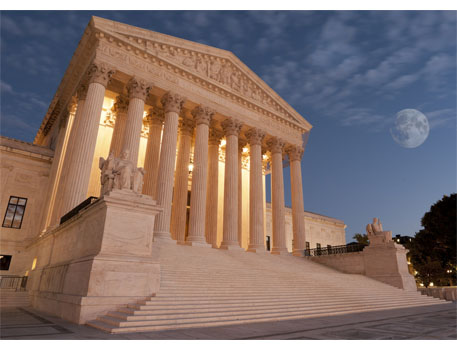 ► From Reuters — U.S. Supreme Court considers narrowing federal protections for unions — The justices heard oral arguments in an appeal by a concrete business in Washington state called Glacier Northwest Inc of a lower court's ruling in favor of a local affiliate of the International Brotherhood of Teamsters in the company's lawsuit against the union arising from a 2017 strike. Glacier Northwest is a unit of Japan-based Taiheiyo Cement Corp. Some of the conservative justices seemed inclined to bolster the ability of companies to take unions to state courts while liberal justices raised concerns about eroding organized labor's power to strike. The Supreme Court, with its 6-3 conservative majority, has leaned toward curbing the power of labor unions in rulings in recent years.
The Stand (Jan. 10) — AFL-CIO: U.S. Supreme Court must uphold right to strike
► From The Hill — American public no longer believes the Supreme Court is impartial — Public approval of the nine-justice panel stands near historic lows. Declining faith in the institution seems rooted in a growing concern that the high court is deciding cases on politics, rather than law.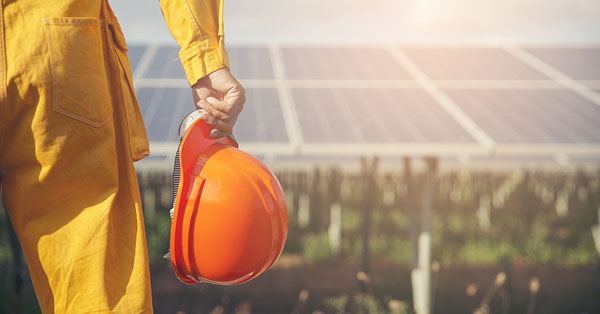 ► From Reuters — Biden's climate agenda has a problem: Not enough workers — U.S. clean energy companies are offering better wages and benefits, flying in trainers from overseas, and contemplating ideas like buying roofing and electric repair shops just to hire their workers as firms try to overcome a labor shortage that threatens to derail President Joe Biden's climate change agenda.
► From HuffPost — Republicans still pushing abortion bills after 2022 midterm flop — House Republicans are set to vote on a pair of abortion bills this week, just a few months after their disappointing performance in the 2022 midterm elections that even some top Republicans attributed to extreme abortion policies.
► From The Hill — White House turns talk of Medicare, Social Security cuts against GOP — The White House is turning the tables on House Republican lawmakers when it comes to conservative-led spending proposals that Democrats warn could mean cuts to crucial programs like Medicare and Social Security.
► From Roll Call — Porter announces 2024 run for Feinstein seat in Senate — California Democratic Rep. Katie Porter is jumping into the state's 2024 Senate race, not waiting for Sen. Dianne Feinstein to decide whether to retire.
---
NATIONAL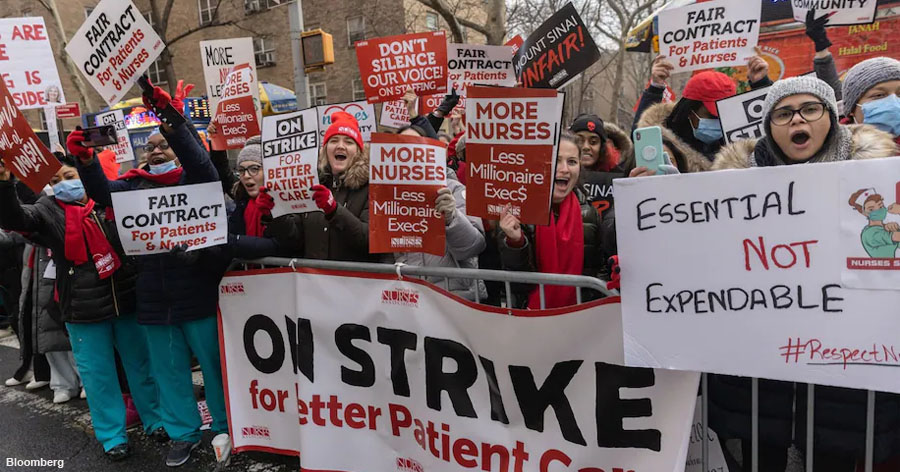 ► From the Washington Post — Thousands of New York City nurses continue strike over staffing levels — As more than 7,000 nurses from two of New York's biggest hospital systems spent another day on a freezing-cold picket line denouncing overwhelming workloads, the city grappled with their absence. Since the start of the coronavirus pandemic, nurses have threatened strikes or walked off the job across the country, from California and Oregon to Chicago, Minneapolis and Pittsburgh. Steep declines among the U.S. nursing ranks — by one measure, 100,000 left the profession between 2020 and 2021 — have laid bare the nation's reliance on nurses to tame public health emergencies and offer the first lines of primary care.
► From the NY Times — 'Chaotic' scenes inside two New York City hospitals during nurses' strike — On the picket line in New York City's largest nurse strike in decades, nurses said they were worried about conditions inside. But they were outside the buildings for now, they said, because they wanted to improve care so they could keep patients safer in the longer term.
► From Yahoo News — Spirit Airlines pilots back contract with 34% average pay hike, union says — Spirit Airlines pilots have ratified a two-year contract with management that will produce $463 million in economic gains including an average 34% pay hike, the Air Line Pilots Association said Tuesday.
EDITOR'S NOTE — Ready for wages that reflect what you're worth? Get more information about how you can join together with co-workers and negotiate a fair return for your hard work. Or go ahead and contact a union organizer today!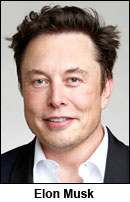 ► From Bloomberg — Tesla nears preliminary deal for Indonesia electric car plant — Tesla Inc. is close to sealing a preliminary deal to set up a factory in Indonesia. The plant would produce as many as 1 million cars a year, sources said, in line with Tesla's ambition to have all its factories globally reach that capacity.
► From the Wall St. Journal — Laid-off workers are flooded with fake job offers — Employment scams using fake job opportunities to swindle applicants are on the rise and have found a new, prime target in laid-off tech workers.
► From the USA Today — SAG Awards nominations: 'Banshees of Inisherin,' 'Everything Everywhere' lead 2023 field — The morning after Steven Spielberg's coming-of-age drama "The Fabelmans" and dark comedy "The Banshees of Inisherin" scored big at the Golden Globes, the Screen Actors Guild unveiled its field Wednesday, led by "Banshees" and genre-smashing sci-fi film "Everything Everywhere All at Once" with five nominations each. The 29th SAG Awards take place Feb. 26 and will stream live on Netflix's YouTube Channel.
---
TODAY'S MUST-READ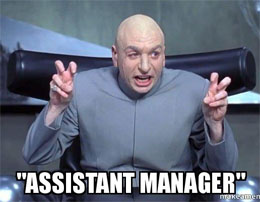 ► From Vice — Bosses give workers bullshit 'manager' titles to avoid paying overtime, study finds — Today, many workers are managers in name only. The national threshold for overtime pay is only $455 a week, or under $24,000 a year. Researchers scoured job listings in the 2010s and discovered that right above that weekly $455 threshold, there was a 485 percent increase in the number of salaried positions with fancy-sounding managerial titles.
EDITOR'S NOTE — This is why, with organized labor's support, Washington state has raised its overtime pay threshold in recent years. On Jan. 1, Washington continued to phase in increases in the salary threshold below which ALL workers must be receive time-and-a-half overtime pay for hours worked beyond 40 per week:
To be exempt from the state Minimum Wage Act, executive, administrative, professional or computer professional, and outside salespeople must earn at least the minimum salary. For employers with 50 or fewer employees, the 2023 salary threshold is 1.75 times the minimum wage: $1,101.80/week ($57,293.60/year). For employers with 51 or more employees, the threshold is double the minimum wage, $1,259.20/week ($65,478.40/year).
If your employer is paying you less than those amounts and still denying you overtime, you can file a wage claim with the Washington State Department of Labor and Industries so you get paid what you've earned.
---
The Stand posts links to Washington state and national news of interest every weekday morning by 10 a.m.
Short URL: https://www.thestand.org/?p=113525
Posted by
David Groves
on Jan 11 2023. Filed under
DAILY LINKS
. You can follow any responses to this entry through the
RSS 2.0
. Both comments and pings are currently closed.