Remembering Rich | Cascade wildcat strike | 'Code Red for humanity'
Monday, August 9, 2021
---
RICHARD L. TRUMKA (1949-2021)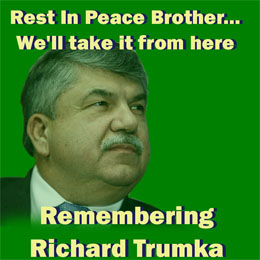 ► From Working to Live in SW Washington — Rest in peace, Brother. We've got it from here: Remembering Richard Trumka (podcast) — IBEW Local 48 Business Rep. and Southwest Washington Central Council Vice President Bob Carroll, UA Local 290 member and Southwest Washington Central Labor Council Secretary Treasurer Randall Friesen, and AFM Local 105 president and Secretary Treasurer of the Spokane Regional Labor Council Tina Morrison join Shannon and Harold to discuss who Richard Trumka was, what he did for the labor movement, and what's ahead for the movement now that he's gone.
ALSO at The Stand:
Nation mourns, honors AFL-CIO's Trumka (Aug. 6)
WSLC: Trumka's passing is a monumental loss (Aug. 5)
► From Safety & Health — Richard Trumka, AFL-CIO president and 'unequaled voice' for workers, dies at 72 — "He was always there," President Joe Biden said of Trumka, whom he called a close friend. "He was an American worker, always fighting for working people, protecting their wages, their safety, their pensions and their ability to build a middle-class life."
► From the Washington Post — Rich Trumka lived in solidarity (by E.J. Dionne) — "We as a movement have not always done our best to support our brothers and sisters of color who face challenges both on and off the job, challenges that you really don't understand unless you live them, day in and day out," Trumka told the Missouri AFL-CIO in 2014 after the killing of Michael Brown in Ferguson, Mo. "See, the test of our movement's commitment to our legacy is not whether we post Dr. King's picture in our union halls but, rather, do we take up the fight when the going gets tough, when the fight gets real, against the evils that still exist today?" he said. "We can't afford any longer to have my issues and your issues. We must all stand together and mobilize around our issues." That was solidarity speaking.
---
COVID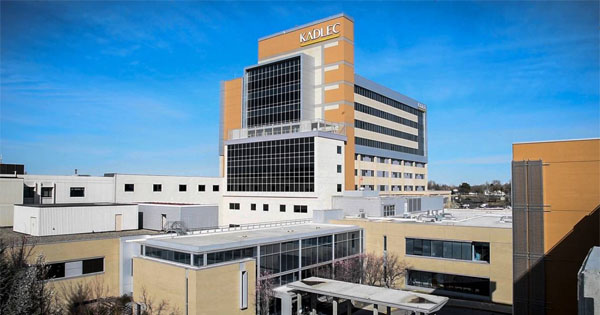 ► From the Tri-City Herald — 'On divert.' Some Tri-Cities patients being sent hundreds of miles for an open hospital bed — One Tri-Cities area patient recently needed to be transferred to a hospital 600 miles away as the latest COVID-19 surge is filling hospitals and overwhelming emergency rooms. In another case, Prosser Memorial Hospital had to call 20 hospitals to find one with an intensive care unit bed for a patient who needed more care than that hospital offers. A week ago all three Tri-Cities hospitals were so busy that for a time they all asked that any emergency patients be taken to another hospital.
► From Crosscut — Pandemic and politics drive mass exodus of WA public health leaders — Email threats, irate officials and dealing with misinformation have become part of the job for stress-filled public health workers.
► From the Kitsap Sun — Virginia Mason Franciscan Health mandates employees get the COVID-19 vaccine — Virginia Mason Franciscan Health, the largest provider of healthcare on the Kitsap Peninsula, decided Friday to require all its employees to be vaccinated for COVID-19. The news was a change for the hospital giant and followed several Puget Sound health care providers, including Kaiser Permanente and MultiCare, which announced a vaccine mandate earlier in the week.
► From Politico — Frontline service workers left out of the vaccine mandate trend — Requiring vaccines is complicated in sectors like retail and agriculture, where employers risk losing workers in a tight labor market and vaccine enforcement could be expensive.
► From HuffPost — Teachers union president says she supports vaccine mandates — Randi Weingarten of the American Federation of Teachers said the union had reconsidered its position that vaccinations should only be voluntary.
► From Vox — No, school isn't going to be "normal" this fall — But we can still make this pandemic school year better than the last.
► From HuffPost — Fauci joins calls to require COVID-19 vaccines for health care workers — The nation's top infectious disease expert said it is "inexplicable" that some people working in the medical community are refusing to get vaccinated.
---
LOCAL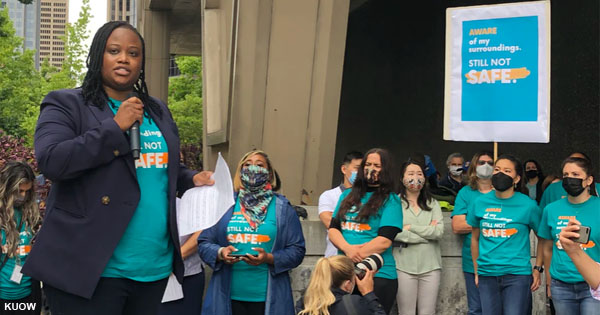 ► From KUOW — King County Courthouse employees demand safety measures after attack on colleague — Dozens of employees who work in the King County Courthouse rallied and marched in downtown Seattle on Friday, calling for stronger safety measures in the building and neighborhood. The crowd, made up of mostly female employees, said the report of an attempted rape of an employee in a courthouse restroom last month has added new urgency to their concerns.
► From the Seattle Times — Worker shortages complicate Seattle-Tacoma Airport's bounce back to pre-pandemic travel numbers — The surge in travel comes as the country faces a historic labor shortage. Last month, Seattle-based Alaska Airline executives left their desks to help baggage handlers amid a serious labor shortage, and American Airlines trimmed its overall schedule by 1% to address staffing shortages, maintenance and other issues.
EDITOR'S NOTE — Al together now: It's not a worker shortage, it's a WAGE shortage.
► From the Seattle Times — Seattle Children's hospital must come clean about racism to start the healing (editorial) — For almost a year, credible accusations of institutional racism have battered Seattle Children's hospital. If the hospital hopes to rebuild trust with the community, it must come clean about what truth exists in those accusations by releasing a recently completed investigation into them.
The Stand (Jan. 6) — WSNA, others call on Seattle Children's to address racism
► From KUOW — Seattle police chief fires two officers for actions at Capitol riots
► From the Bellingham Herald — Canadian border agency strike ends. Here's what that means for Whatcom traffic — Border traffic flow appears to have returned to normal levels Saturday morning, Aug. 7, after Canada Border Services Agency employees ended a strike at Canada's borders.
► From the Oregonian — Oregon OSHA fines Dundee winery after worker dies in tank — A 39-year-old worker at Corus Estates & Vineyards LLC, also known as 12th & Maple Wine Co., was found unresponsive Feb. 1 in an empty 30,000-gallon wine tank.
---
CLIMATE



► From the Washington Post — Humans have pushed the climate into 'unprecedented' territory, landmark U.N. report finds — U.N. chief calls findings "a code red for humanity" with worse climate impacts to come unless greenhouse gas pollution falls dramatically… Monday's sprawling assessment states that there is no remaining scientific doubt that humans are fueling climate change. That much is "unequivocal." The only real uncertainty that remains, its authors say, is whether the world can muster the will to stave off a darker future than the one it already has carved in stone.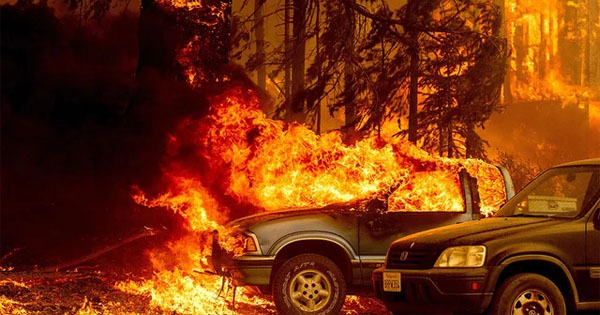 ► From HuffPost — Dixie fire becomes largest in California history — The fire has been raging for days and fueled by record dry conditions in the area in recent weeks, as well as high winds.
► From the Seattle Times — The heat is rising and so is the danger to farmworkers. We can do something about it. (by Naomi Ishisaka) — U.S. farmworkers are about 35 times more at risk of heat-related death than the general labor force. And as extreme heat events and temperatures increase, that danger is only likely to rise, not to mention the rising danger of smoke and wildfires on air quality for outdoor workers. The UFW and other advocates raised all the alarm bells they could with lawmakers to create more protections for workers, but they said the emergency rules Washington passed fell short of what was needed. UFW's Elizabeth Strater said to prevent future deaths, we need to shift our policies and our thinking. "[People] need to understand the labor that was going on behind the scenes to make sure that there's food in the kitchen," she said. Strater said workers need a path to citizenship, legal status and heat protection, and "they need to be treated like the lives of these men and women and children are worth as much as anyone else's."
---
THAT WASHINGTON
► From The Hill — Senate votes to end debate on $1T infrastructure bill — The Senate on Sunday night voted to end debate on a roughly $1 trillion bipartisan infrastructure bill, putting it on a glide path, albeit a lengthy one, to passing this week. Senators voted 68-29 to end debate on the bill, which required 60 votes. Eighteen GOP senators joined with all Democrats to help advance the legislation.
► From the AFL-CIO — Bipartisan infrastructure deal a win for America's workers — Acting AFL-CIO President Liz Shuler on the bipartisan infrastructure deal:
"The bipartisan infrastructure deal is a win for America's workers who are hungry to rebuild our nation after decades of delay and decline. This is a testament to the leadership of President Biden and a hopeful sign that policies supported by large majorities of the American people can move through a closely-divided Senate. As this bill moves toward final passage, we need to make sure that strong labor standards are included so we can make good on the promise to create millions of good-paying union jobs. Finally, we urge senators to capitalize on this momentum by passing the rest of the widely popular Build Back Better agenda, including the American Families Plan and the PRO Act."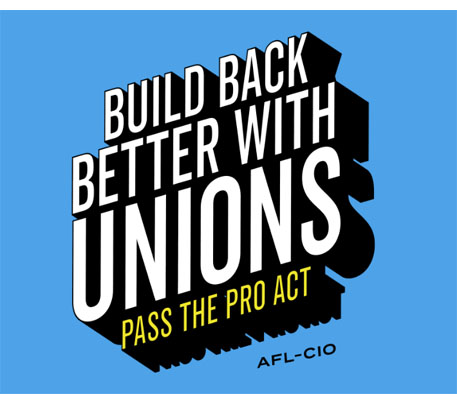 ► From the Kansas Reflector — What we learned from the strike at Frito-Lay for better pay and one day off (by Tony Spicer, John Nave and Andy Sanchez of the Kansas AFL-CIO) — The Frito-Lay anti-union tactics were yet another example of the bullying that is often done by companies to cease workers from bargaining collectively and having union representation. Frito-Lay and its parent company, PepsiCo, displayed exactly why passing the ProAct (Protect the Right to Organize Act) is necessary. Workers here faced intimidation, an unsafe work environment, threats of termination, replacement (by temp workers), and discrimination. That was all before they could even get to negotiating compensation, work schedules or benefits like health care and retirement. Now think of the health risks associated with the COVID-19 pandemic, during which these workers kept producing the Frito-Lay products. So this situation, not uncommon, really puts a magnifying glass on these issues when we think of employees trying to come together to form a union for the first time and have a voice for their work environment.
---
NATIONAL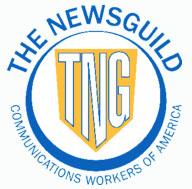 ► From Poynter — The NewsGuild just broke its annual organizing record — with five months to go — More than 1,500 workers across 29 workplaces have joined the NewsGuild so far this year, setting a record for the organization, which is the largest union representing journalists. Since 2015, the NewsGuild has been on an organizing spree, unionizing local papers and national publications alike, as part of a larger labor movement within journalism.
► From The Hill — Cuomo investigation returns spotlight to workplace harassment — Twenty-one percent of Americans say they have experienced sexual harassment in the workplace, according to a 2018 report from Edison Research. On top of that, experts say that most sexual harassment cases go unreported.
---
The Stand posts links to Washington state and national news of interest every weekday morning by 10 a.m.
Short URL: https://www.thestand.org/?p=100802
Posted by
David Groves
on Aug 9 2021. Filed under
DAILY LINKS
. You can follow any responses to this entry through the
RSS 2.0
. Both comments and pings are currently closed.