A deal in B.C. | Shame on Cathy and Dan | Actors strike for a future
Friday, July 14, 2023
---
LOCAL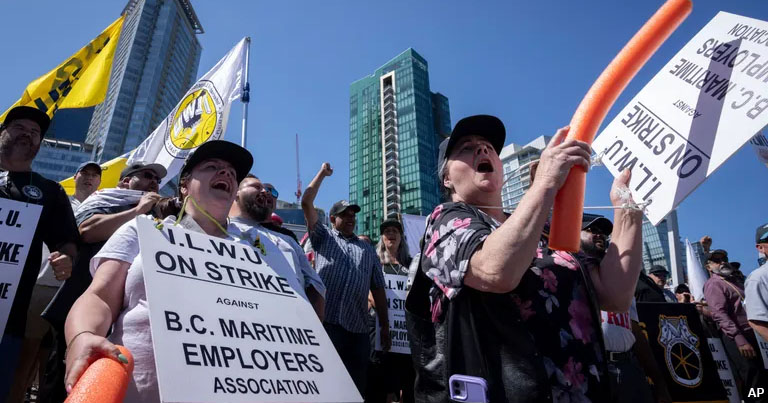 ► From the AP — Tentative deal reached in nearly 2-week port strike on Canada's west coast — A statement from the BC Maritime Employers Association said it had reached a tentative agreement with the International Longshore and Warehouse Union. The strike by 7,400 members of the union began July 1 and shut down more than 30 west coast ports, including Canada's largest, the Port of Vancouver. The four-year deal is subject to ratification by both parties, so details are not yet being released.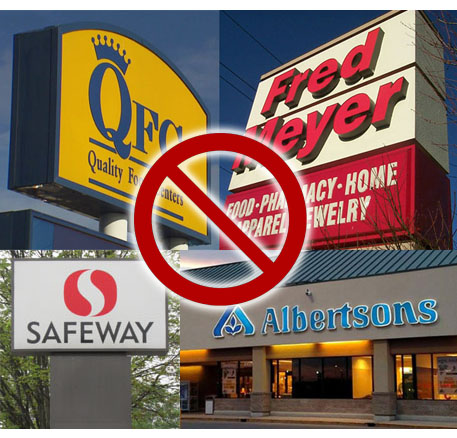 ► From the Spokesman-Review — Higher costs and less freedom vs. lower prices and more freedom (by UFCW 3000 members Derek Roybal and Jeff Terpening) — We have lived and worked in Spokane for a long time and, like you, we want a better future for ourselves and our families. Corporations getting bigger and bigger across America can be a threat to this better future. And the biggest threat now on this front is the proposed mega-grocery store merger of Albertsons and Kroger… We call on the readers to make a difference by voicing your concerns about this proposed merger to the Federal Trade Commission. An easy way to do that is on the NoGroceryMerger.com website where more than 2,000 people have already sent in their comments.
► From KUOW — Seattle's popular restaurant Canlis sued for wage theft — The suit states that Canlis has been collecting a 20% service charge, with a disclosure that the fee would be distributed to staff. But two former workers say the money went to the restaurant instead.
► From the union-busting Columbian — Clark County workers could see pay raise of up to 15% — Some Clark County employees could be in line for as much as a 15 percent raise based on the results of a yearlong county government employment classification and compensation study.
► From the PS Business Journal — Maverick Gaming adds Silverdale casino to growing portfolio — Maverick Gaming continued its casino buying spree last week with the acquisition of All Star Lanes & Casino in Silverdale. There are currently 172 employees. No changes to the management or layoffs are planned.
---
THIS WASHINGTON



► From the Washington State Standard — High gas prices fuel talk of anti-gouging measures, cap-and-trade tweaks — Democratic state lawmakers and cap-and-trade supporters claim oil companies are excessively jacking up prices to pad profits. They're looking at a strategy in the 2024 legislative session that would involve anti-price-gouging legislation and new transparency requirements for the oil firms.
The Stand (July 12) — Big Oil, not state's climate efforts, is gouging your wallet (by Rep. Alex Ramel)
---
THAT WASHINGTON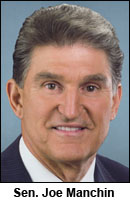 ► From Politico — Manchin opposes Julie Su for Labor secretary, jeopardizing nomination — The Biden administration is calling out Democratic Sens. Kyrsten Sinema (AZ) and Joe Manchin (WV) over the nomination of Julie Su, a dramatic escalation in an effort to confirm a Secretary of Labor that has been stalled on Capitol Hill since February. A White House official on Thursday said President Joe Biden would continue to fight for Su's confirmation, calling his support for her "unwavering. "We hope," the official added, "Senator Manchin and Senator Sinema reconsider their position." The official's comments came just minutes after Manchin said he would oppose Su's nomination. The West Virginia Democrat touted Su's credentials as "impressive" but said he ultimately decided to vote against her over a "genuine concern" regarding ideology.
► From Politico — GOP discord threatens Senate response to railway disaster — An internal GOP dispute between party leaders and a motley crew of junior lawmakers is threatening to sink a bipartisan rail safety bill aimed at responding to February's toxic spill in East Palestine, Ohio. Many Republicans view the proposal's new requirements for rail staffing and inspection as anathema to the party's long-held small-government stance.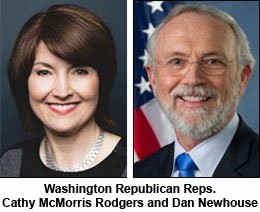 ► BREAKING from the AP — House GOP approves Defense bill that restricts abortion access and halts diversity initiatives — The U.S. House on Friday approved a sweeping annual defense bill that provides an expected 5.2% pay raise for service members but strays from traditional military policy with political add-ons from Republicans to block abortion coverage, diversity initiatives at the Pentagon and transgender issues that deeply divided the chamber.
EDITOR'S NOTE — Both Washington Republican Reps. Dan Newhouse and Cathy McMorris Rodgers voted "yes" for the amendment to restrict abortion access.
► From the Washington Post — Biden administration announces $39 billion in student loan forgiveness — The Biden administration announced Friday that it will forgive the student loans of more than 800,000 borrowers who enrolled in income-driven repayment plans.
---
NATIONAL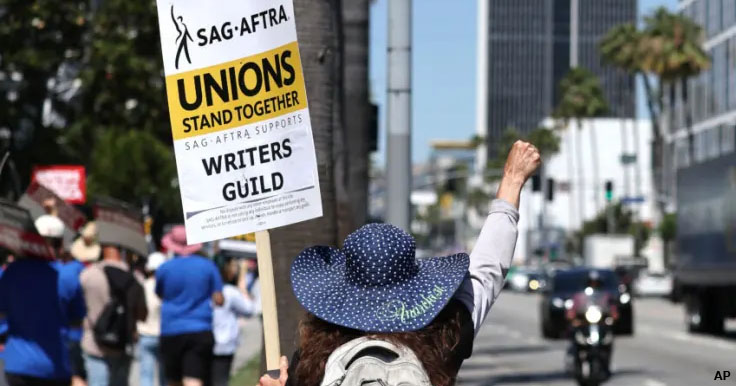 ► From the AP — Striking actors will begin picketing alongside writers in fight over the future of Hollywood — The double-barreled strike will shut down the small number of productions that continued shooting in the two months since screenwriters stopped working. SAG-AFTRA and the Writers' Guild have similar issues with studios and streaming services. They are concerned about contracts keeping up with inflation, residual payments in the streaming era and putting up guardrails against the use of artificial intelligence mimicking their work on film and television shows.

► From the NY Times — Once 'The Nanny,' now center stage as the actors' union leader — Fran Drescher, who became a household name for her role on a 1990s sitcom, is now president of SAG-AFTRA, the union going on strike.
► From The Hill — Oppenheimer exits: Damon, Blunt, Murphy walk out of premiere as strike starts
► From the LA Times — Disney CEO Bob Iger calls actors and writers not 'realistic' in contract demands
EDITOR'S NOTE — This joker makes $75K a day.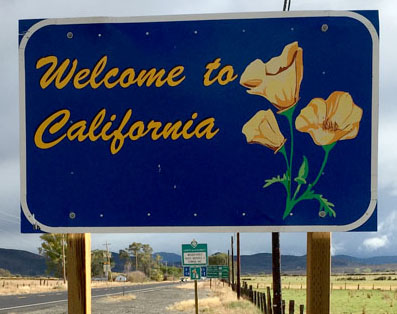 ► From the LA Times — SAG-AFTRA strike shows L.A. is leading the labor movement (editorial) — Southern California unions and the working people they represent have become the vanguard of the American labor movement. About half of the big strikes in the U.S. this year have taken place in California. Members of SAG-AFTRA will join tens of thousands of hotel workers and screenwriters on strike, following big work stoppages just months ago by workers in L.A.'s public schools and at University of California campuses. Labor's bargaining ambitions are backstopped by a sense of militancy and solidarity not seen in decades.
► From the LA Times — Disneyland workers could get a pay hike to nearly $20 an hour after living-wage win — A California appellate court ruled that Disneyland has illegally evaded a living-wage law passed by Anaheim voters in 2018 that could boost pay for Disneyland Resort workers to nearly $20 an hour.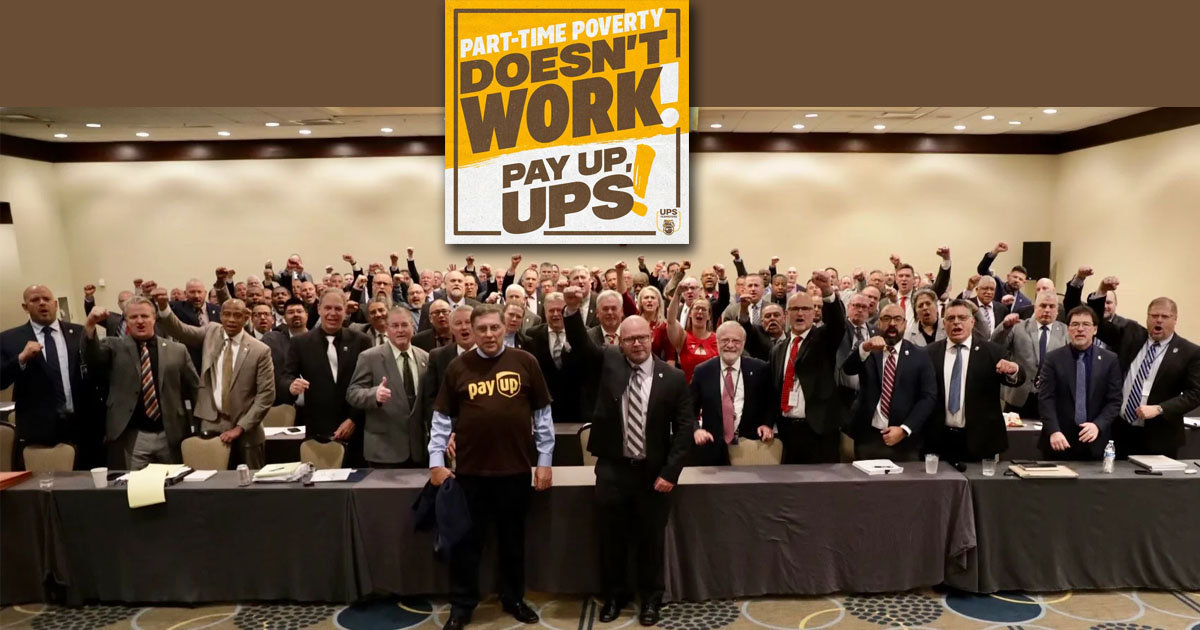 ► From Reuters — UPS strike could be costliest in U.S. in a century, study says — A threatened U.S. strike at United Parcel Service could be "one of the costliest in at least a century," topping $7 billion for a 10-day work stoppage, a think tank specializing in the economic impact of labor actions said on Thursday.
The Stand (July 6) — UPS walks away; nationwide Teamsters strike imminent
► From Teamster.org — Teamsters picket San Bernardino Amazon warehouse amid Prime Week in growing strike — Striking Amazon delivery drivers and dispatchers from Palmdale, Calif., extended their picket line to an Amazon warehouse in San Bernardino today to demand the e-commerce giant stop its unfair labor practices.
► From the Washington Post — Weeks-long streaks of 100-plus-degree days break records across U.S. — The heat wave plaguing the southern United States is expected to stretch into early next week, with temperatures persisting well above 100 degrees throughout much of Texas, Florida and Southern California.
---
T.G.I.F.
► The Entire Staff of The Stand wishes a very happy 36th birthday to Dan Reynolds, the songwriter, frontman and gigantic drum player for Imagine Dragons. Here he is performing the best-selling rock song in U.S. digital history. Reynolds said, "'Radioactive,' to me, it's very masculine, powerful-sounding song, and the lyrics behind it, there's a lot of personal story behind it, but generally speaking, it's a song about having an awakening; kind of waking up one day and deciding to do something new, and see life in a fresh way."
---
The Stand posts links to Washington state and national news of interest every weekday morning by 10 a.m.
Short URL: https://www.thestand.org/?p=118365
Posted by
David Groves
on Jul 14 2023. Filed under
DAILY LINKS
. You can follow any responses to this entry through the
RSS 2.0
. Both comments and pings are currently closed.