Starbucks strikes | Sells stepped up | Cancel student debt | Union Drip
Tuesday, May 17, 2022
---
COVID
► From the Kitsap Sun — Kitsap County's COVID cases up 155.4%; Washington cases surge 124.8%
► From NPR — The federal government is offering another round of free COVID tests — Americans can once again order free COVID-19 tests from the federal government by visiting COVIDtests.gov. In this round, the U.S. Postal Service will deliver eight free rapid antigen tests to any household in the U.S. that wants them.
---
STARBUCKS

► From the Olympian — Olympia Starbucks employees shut down store Monday to protest cut hours, firings — The Cooper Point Village Starbucks was closed to customers on Monday, as employees, past and present, as well as supporters went on an unfair labor practice strike from 4:30 to 10 a.m. The store was unmanned for the morning rush and it was closed for the rest of the day. The strike comes after employees at the store at 315 Cooper Point Road NW voted 19-2 in favor of unionizing with Workers United, joining 70 other stores nationwide. Monday's strike was in response to cut hours and understaffing as well as the termination of three union organizers in the Pacific Northwest, according to a union release.
The Stand (March 30) — Starbucks workers 'burnt out, sick and tired'
EDITOR'S NOTE — Two Starbucks stores in Eugene, Ore., are also striking over the illegal firings of pro-union employees.
THE I-85 AND PELHAM STORE IN GREENVILLE IS THE FIRST STARBUCKS IN SOUTH CAROLINA TO WIN THEIR UNION!!! 8-1 VOTE

— SBWorkersUnited (@SBWorkersUnited) May 16, 2022
There are now 70 unionized Starbucks stores across the country. Starbucks workers have petitioned for union elections in hundreds more with more filing petitions every day. In Washington state to date, 16 stores have filed for union elections and Starbucks workers have voted "Union Yes!" in all five of the stores where elections have been held.
---
THIS WASHINGTON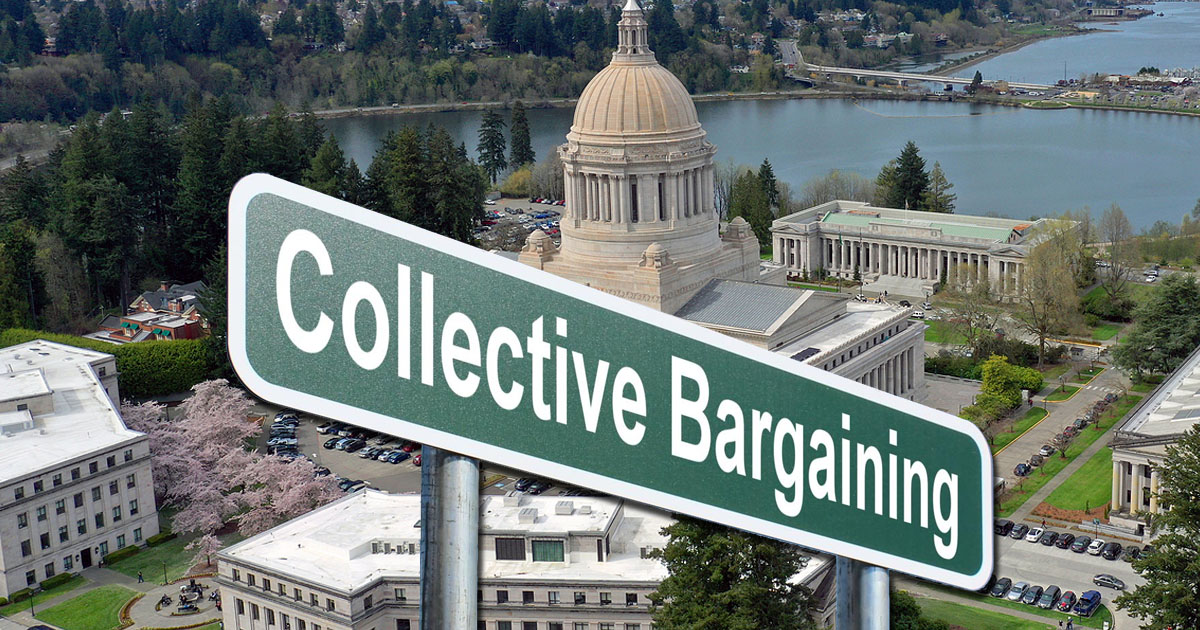 ► From the Seattle Times — Inside WA legislative workers' union push as frustration builds with Democratic leadership — Early this year, as he watched legislation to grant collective bargaining rights to staffers at the Washington Legislature stall yet again, state Rep. Mike Sells (D-Everett) sent a message to his fellow Democrats. On the death of the initial collective bargaining bill in mid-February, he wrote:
"Not working through it sent a huge message that our words around respect for labor come across as a bit hollow when we consider our own employees. It's like, 'that's for other folks,' not us because we're really nice people who care. It looks more than paternalistic to those bright, sharp, intelligent people that make what we do possible."
Lawmakers quickly assembled and passed a new bill aimed at setting up a process to allow at least some legislative workers to unionize. For the ranks of legislative workers who have for years sought to address concerns about pay, overtime, the Legislature's management structure and how it handles complaints by employees, this year's turnabout was a welcome step.
The Stand (March 2) — Sickout in Olympia over bargaining rights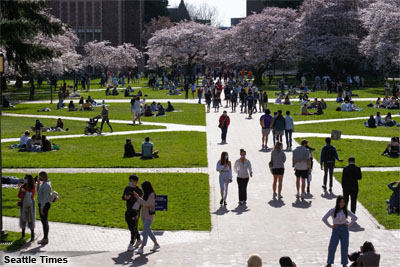 ► From the Seattle Times — UW's use of 'permatemp' faculty is unfair to students and part-time faculty (by Dan Jacoby) — Temporary faculty are contractually distinct from other faculty. Career advancement is barred, regular review or mentoring is not required, and salaries are adjusted with across-the-board increases. Quarterly faculty exist in a precarious state but protest little fearing that raising issues may result in their being viewed as difficult or troublemakers… For permatemps, benefits, especially health coverage, are always in doubt. Several faculty with cancer and other health conditions discussed harrowing stories because they could not count on reappointment at the 50% level required for benefits.
► From KNKX — UW report finds failure to respond to ICE detainees' sexual abuse complaints — A new report by the University of Washington Center for Human Rights shows that there have been more than 60 sexual abuse allegations — ranging from harassment to assault — at the ICE detention center in Tacoma. The 16-page report titled "Calls to Nowhere: Reports of sexual abuse and assault go unanswered at the NWDC" traces sexual abuse allegations at the detention facility over the last 10 years.
► From the Olympian — Justice Raquel Montoya-Lewis takes medical leave — Washington Supreme Court Justice Raquel Montoya-Lewis announced Monday she will be on family medical leave for the court's spring term to concentrate on her health, but officials with the court didn't release additional details, citing the justice's desire for privacy.
---
AEROSPACE



► From Reuters — Some of United Airlines' Boeing 777s get OK to fly after 2021 engine failure — United Airlines said on Tuesday the FAA has cleared its Boeing 777 planes equipped with Pratt & Whitney (PW) 4000 engines to return to service, while the wide-body jets are expected to begin flying next week.
---
THAT WASHINGTON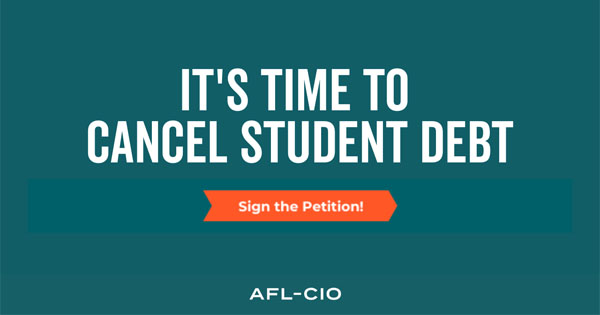 ► From the AFL-CIO — It's time to cancel student debt — SIGN THE PETITION: We call on the Biden administration to do its part to assist borrowers hampered by crippling debt. Organized labor was built on the foundation of creating a pathway to the middle class for everyone, but skyrocketing student loan debt has become an insurmountable obstacle to achieving this goal.
► From the AFL-CIO (May 12) — AFL-CIO calls for student loan forgiveness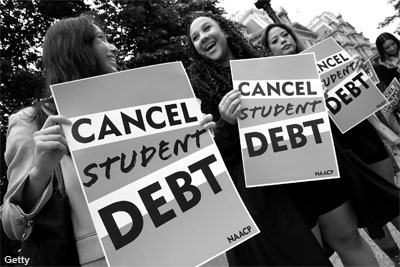 ► From the NY Times — The government gave out bad loans. Students deserve a bailout. (by Charlie Eaton, Amber Villalobos and Frederick Wherry) — Just as some argued that the subprime mortgage crisis was a matter of millions of people choosing to borrow too much, others have said that the student debt crisis is primarily the fault of the debtors. This myth hides that it was a harmful policy decision to encourage disadvantaged students to borrow for college in the first place. In 2008, the federal government was willing to bail out banks after their risky lending practices devastated the economy. We need a similar such bailout today. But unlike in 2008, this bailout would go to the victims of a crisis, not its perpetrators.
► From the USA Today — A day on the job turned harrowing at Tops, but these workers survived shooting rampage: What we know — As Buffalo, N.Y., continued to mourn Tuesday after 10 people were killed in a violent rampage at a grocery store, details emerged about survivors of the racially motivated attack. They included grocery store employees who were shot in the neck and head while doing their jobs.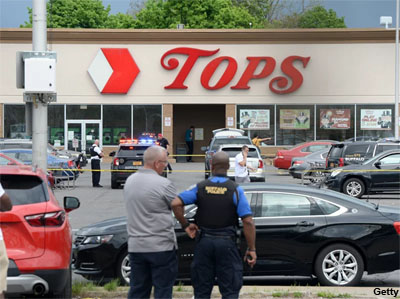 ► From NPR — President Biden will travel to Buffalo today to meet with shooting victims' families — The trip comes three days after a gunman opened fire in a Tops Friendly Market store in a predominantly Black neighborhood of Buffalo, leaving 10 people dead. After the shooting, a document allegedly tied to the gunman emerged online. It includes racist, anti-immigrant views and cites the Replacement Theory — a far-right, white nationalist conspiracy theory that baselessly claims that white people in American are being systematically replaced by people of color.
The Stand (May 15) — AFL-CIO: 'We must take action' on racially motivated shootings
► From NPR — How the 'Replacement' theory went mainstream on the political right — "Replacement" theory began in white supremacist circles, but has since moved more mainstream on the political right in this country and among many Republicans, explicitly or implicitly.
► From the NY Times — The Buffalo shooting was not a random act of violence (editorial) — American life is punctuated by mass shootings that are routinely described as idiosyncratic. But these attacks are not random acts; they are part of the long American history of political violence perpetrated by white supremacists against Black people and other minority groups.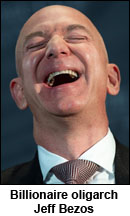 ► From The Hill — Biden-Bezos feud escalates — A simmering feud between President Biden and Jeff Bezos has spilled into the open after the Amazon founder went on the offensive to criticize the White House's approach to inflation and taxing wealthy corporations. Biden has frequently used Amazon as a foil as he pushes for higher taxes on the richest Americans and big companies to help fund his economic agenda, and he recently vocally backed unionization efforts at the company.
---
NATIONAL
► From the St. Louis Labor Tribune — Newly organized workers are talking about why it's important to join a union — Bella Griep, a Starbucks worker in Hamiton Township, N.J.:
"I used to brag about how well Starbucks treated partners. However, at some point corporate apparently stopped being interested in partner perspective and once we stopped being heard working conditions worsened and worsened. It became clear that we were only partners by name. Starbucks Workers United finally gives us a voice again. It feels like we actually have a say in the direction of the company and we are very grateful for the support that we have."
EDITOR'S NOTE — Ready for a voice at work? Get more information about how you can join together with co-workers and negotiate a fair return for your hard work. Or go ahead and contact a union organizer today!
► From Vice — Famously cheerful Trader Joe's workers are actually unhappy and want a union — Though it's just the latest high-profile union effort, the roots of the campaign at Trader Joe's—and the company's opposition to its employees forming a union—go back more than two years, the workers said.
► From The Hill — Here's why gasoline prices are spiking again — Prices of both diesel and jet fuel, which are also made at refineries, are spiking, and experts say many refiners are turning toward making those more profitable products.
---
AND THEN THERE'S THIS…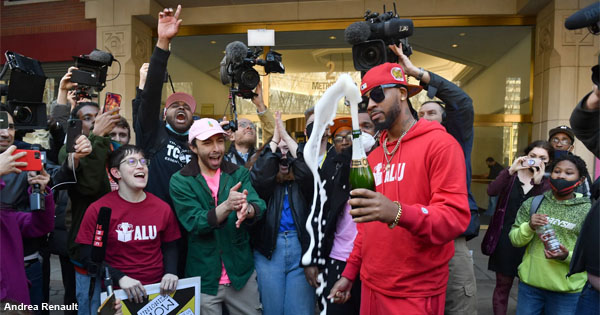 ► From Teen Vogue — The Union Drip Twitter account highlights the style of the labor movement — See: the photo of Amazon Labor Union's interim president Christian Smalls from the union's post-vote count press conference, posted by the Twitter account @UnionDrip (full profile name: Dripped Out Trade Unionists), going viral. Days after the ALU won its vote, the page was started by Bay Area resident John Elward to share photos of today's rank-and-file workers wearing pro-worker gear, alongside images of past labor leaders in vintage union outfits.
"The older pictures of early labor leaders and the things that they're wearing — there's this sense of dignity and pride, a little bit, or respect," the 41-year-old UPS worker tells Teen Vogue. "And I think that's a lot of what the 'drip' is really about — dignity and respect in the workplace and letting somebody feel like they have a place in society. Because, you know, corporate America and the workplace just wants to chew you up and spit you out."
---
The Stand posts links to Washington state and national news of interest every weekday morning by 10 a.m.
WASHINGTON IS A UNION STATE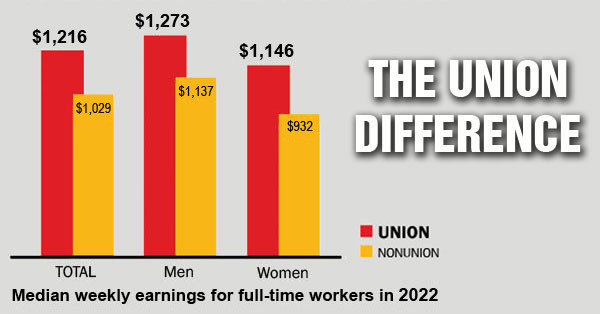 CHECK OUT THE UNION DIFFERENCE in Washington state: higher wages, affordable health and dental care, job and retirement security.
FIND OUT HOW TO JOIN TOGETHER with your co-workers to negotiate for better working conditions and respect on the job. Or go ahead and contact a union organizer today!