May Day roundup | Inslee won't run again | Hollywood writers strike
Tuesday, May 2, 2023
---
LOCAL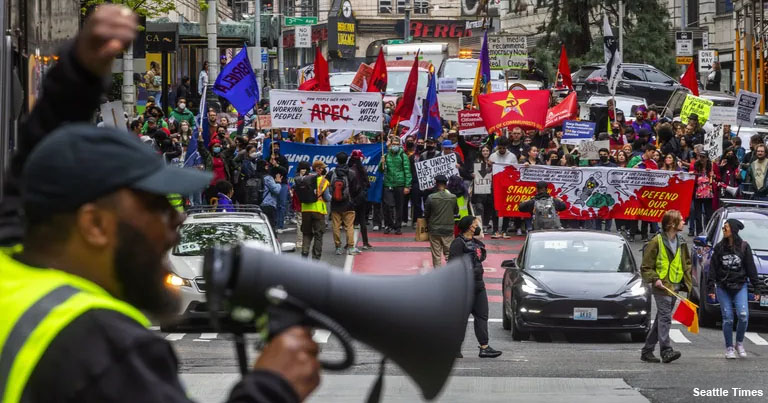 ► From the Seattle Times — May Day Seattle: Hundreds march for worker, immigrant rights — Buoyed by a string of high-profile union campaigns in Seattle and across the United States, hundreds of demonstrators gathered Monday in downtown Seattle for a May Day rally and march in support of immigrant and worker rights. The event, with its calls for better pay and greater dignity in the workplace, is an annual tradition. But this year, even as the economic fallout from the pandemic allows workers more say in where they want to work and when, the message remained loud and clear: There's still more to be done.
► From the Yakima H-R — Yakima comes together to recognize workers and immigrants at May Day march — More than 200 community members and activists came from across the Yakima Valley for May Day events in support of immigration reform and greater recognition for local workers. It was the first in-person May Day event since 2019.
► From KXLY — Postal workers hold rallies across country, demanding change — Postal workers say they are exhausted, short-staffed, underpaid, and they're demanding change. Roughly a dozen postal workers gathered to air their grievances in Spokane, all of whom were critical of Postmaster General Louis DeJoy. "We're tired of the delays that DeJoy, our postmaster General has been causing. And we're tired of the short staffing, long hours, bad working conditions," said Sherri Butler, who's been a postal worker for 22 years.
The Stand (April 28) — Seattle postal workers demand dignity, respect at picket
Today, on May Day, we filed for an election with the NLRB and told management that we are are forming OUR union with @ufcw_3000 ✊ #reiunion pic.twitter.com/RemXuqqft4

— REI Union Bellingham (@reiunionbham) May 1, 2023
► From the Bellingham Herald — Bellingham REI employees announce plans to unionize, file paperwork seeking an election — Employees of the Bellingham REI retail co-op at 400 36th St., announced Monday that a majority of the staff has voted to form a union. The workers filed for a union election with the National Labor Relations Board (NLRB), according to a news release from the employees. The workers plan to join UFCW Local 3000. Bellingham REI Customer Service Associate Ian Schaefer Lorenz said:
"I've worked for REI for three years and I started organizing after our store lost more than a dozen good employees during the holidays because they weren't getting the hours the company promised them when they were hired."
EDITOR'S NOTE — Not getting what you were promised? Get more information about how you can join together with co-workers and negotiate for a Union Contract that guarantees fair pay and working conditions. Or go ahead and contact a union organizer today!
► From KING — Guemes Island ferry workers stage one day strike — The Guemes Island ferry has operated in Anacortes since 1890, but it was not operating Monday, as ferry workers fought for a fair contract. Standing outside the dock, holding signs demanding fair wages, ferry workers (ILWU 23) said their pay has only gone up $2.95 an hour over the past 14 years. The inability to keep up with the cost of living is sinking their budgets as everything gets more expensive.
► From the PS Business Journal — Tesla enters Pacific Northwest with facility in Marysville — Tesla has leased one of the first buildings to be delivered in Marysville's 5.1 million-square-foot Cascade Industrial Center. The new 245,000-square-foot building will be used as a parts and assembly plant for Austin, Texas-based electric car manufacturer automaker. It will be the first Tesla plant in the Pacific Northwest.
► From the Oregonian — SW Washington school district bans teachers from asking students' pronouns — La Center School District has forbidden teachers from asking students for their pronouns, with the superintendent saying that the increasingly common practice amounts to telling students what to think about gender.
---
THIS WASHINGTON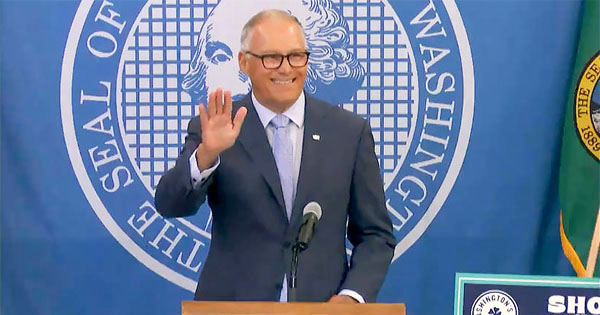 ► From the AP — Governor Jay Inslee won't seek 4th term — Washington Gov. Jay Inlsee, a Democrat who has sought to make the state a leader on progressive policies from climate change to gun violence prevention, said Monday he will not seek a fourth term in office. The 72-year-old's announcement clears the way for younger members of the party to run. Inslee said:
"As governor, I have seen my role as inspiring our state ever forward and ever higher. I'm gratified to be able to say that this approach has worked to improve Washingtonians lives in many ways and many places."
► Full Inslee statement — "We've made Washington a beacon for progress for the nation. I'm ready to pass the torch."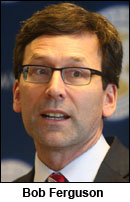 ► From the Seattle Times — WA Attorney General Bob Ferguson announces campaign for governor — Washington Attorney General Bob Ferguson is running for governor, he announced in a video Tuesday morning. A three-term Democratic attorney general, Ferguson touted his battles with the Trump administration over issues like immigration and abortion rights, as well as his recent legislative success in banning semi-automatic rifles like AR-15s.
► From the Seattle Times — After Jay Inslee, what's next for WA politics? What we know about 2024 — The long-awaited announcement clears a political jam that has — electorally speaking — stagnated the upper tier of state politics for years, opening the door for a new generation of elected leaders.
► From the Seattle Times — Longtime WA Insurance Commissioner Mike Kreidler will not seek reelection
► From The Stranger — Inslee to set date for special session on drug possession law — On Tuesday, Gov. Jay Inslee is expected to announce the date of a special session, during which lawmakers will work to set a statewide policy on drug possession.
---
AEROSPACE



► From KWCH — Machinists union, Spirit AeroSystems begin contract negotiations — Contract negotiations between Spirit AeroSystems and the local machinists union are underway with workers for Wichita's largest private employer calling for a new deal. After a strike sanction vote passed in March, the union, IAM Local Lodge 839 in Wichita, can strike if its members choose. The last contact signed between Spirit and the Machinists Union was 13 years ago. That contract was extended due to the pandemic in 2020, but now the union is asking for a new agreement.
---
THAT WASHINGTON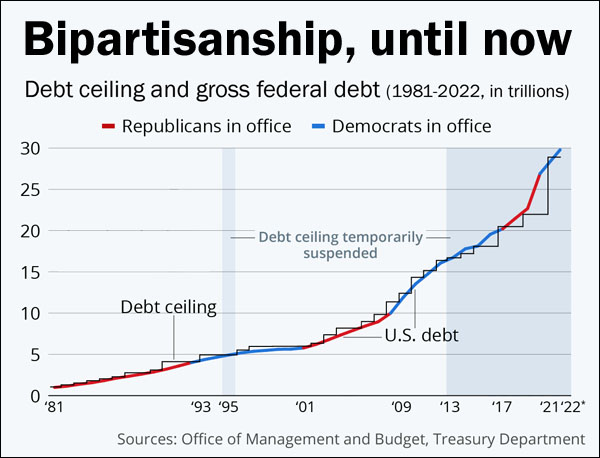 ► From the Washington Post — Biden seeks debt ceiling talks, as U.S. faces possible June 1 default — President Biden invited House Speaker Kevin McCarthy (R-Calif.) and other congressional leaders to the White House next week to discuss the debt ceiling, as Washington scrambled Monday to respond to news that the government could default on its obligations as soon as June 1. Biden's request for talks followed a jarring new projection from the Treasury Department that the government could run out of cash to pay its bills in as few as four weeks without additional borrowing authority — an unprecedented event that could rattle world financial markets and tip the fragile U.S. economy into another recession.
The Stand (April 27) — GOP holds economy hostage in effort to slash jobs, programs
► From Politico — Fast-approaching debt deadline jolts a flat-footed Congress — The Treasury Secretary's warning of an economically perilous default as soon as June 1 prompted a White House meeting — but little other movement in Congress.
► From The Hill — GOP, McCarthy now face even heavier debt ceiling lift — Finding a bill that can win support from House Republicans and President Biden, and by the June 1 date set by Treasury Secretary Janet Yellen on Monday — will be a much heavier lift than the debt ceiling bill that squeaked through last week.
► And now, finally, even the Wall Street Journal reports — Why is inflation so sticky? It could be corporate profits — Some companies might have been raising prices faster than their costs have increased, making it harder for inflation to fall, economists say.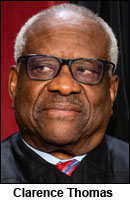 ► From the Washington Post — Supreme Court ethics rules are focus of Senate hearing on Tuesday — A pair of prominent constitutional experts — one conservative, one liberal — are telling Congress that lawmakers have the power to impose a code of conduct for Supreme Court justices, but cannot order the high court to come up with rules on its own.

► From Politico — Supreme Court move could spell doom for power of federal regulators — The high court announced Monday that it is taking up a case squarely aimed at killing off the nearly-four-decade-old precedent that has come to be known as Chevron deference: the principle that courts should defer to reasonable agency interpretations of ambiguous provisions in congressional statutes and judges should refrain from crafting their own reading of the laws.
---
NATIONAL
► From the LA Times — Hollywood writers strike over streaming pay after talks fail — A festering dispute over how writers are compensated in the streaming era came to a head Monday night, as leaders of the Writers Guild of America called on their members to stage Hollywood's first strike in 15 years, effective 12:01 a.m. Tuesday. Thousands of WGA members were set to walk picket lines across Los Angeles, New York and other cities Tuesday after the union was unable to reach a last-minute accord with the major studios on a new three-year contract to replace one that expired Monday night. The WGA statement reads: "The companies' behavior has created a gig economy inside a union workforce, and their immovable stance in this negotiation has betrayed a commitment to further devaluing the profession of writing. No such deal could ever be contemplated by this membership."
► From Vox — Hollywood's writers are on strike. Here's why that matters. — It's been 15 years since the last WGA strike, and the stakes are far greater. According to the WGA's proposals chart, the guild's proposals would gain the writers about $429 million in total per year. The AMPTP's counter-proposal is an increase of about $86 million per year. Meanwhile, according to the WGA's calculations, industry profits have ballooned from $5 billion in 2000 to $28-$30 billion from 2017-2021. Spending on original streaming content grew from $5 billion in 2019 to $19 billion in 2023 — the lion's share of it by Netflix, which reported $6 billion in operating profits in 2021 and $5.6 billion in 2022.
► From The Nation — Why are so many young people joining labor unions? — For May Day, we talked to young workers—in tech, retail, food service, and more—about what brought them to the labor movement.
EDITOR'S NOTE — Ready for a voice at work? Get more information about how you can join together with co-workers and negotiate a fair return for your hard work. Or go ahead and contact a union organizer today!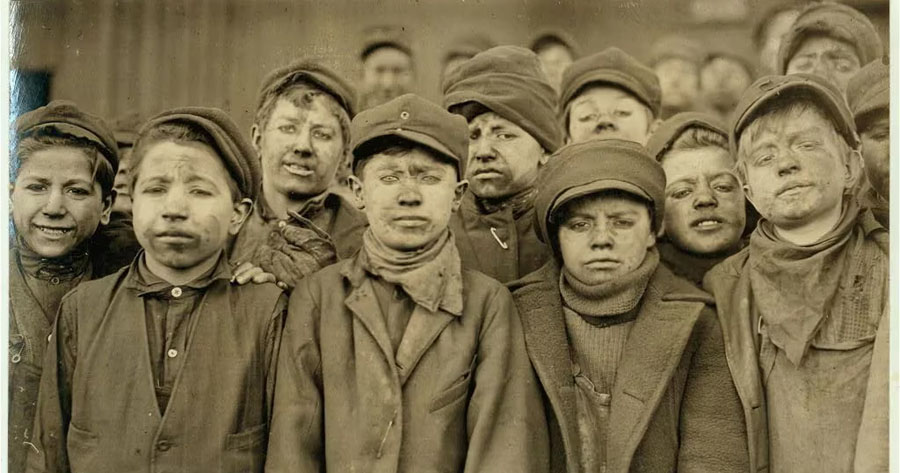 ► From the Washington Post — These searing photographs helped ban child labor in America — until now — Around the turn of the 20th century, at least 18 percent of children between the ages of 10 and 15 were employed. Lewis Hine's searing images of those children remade the public perception of child labor and inspired the laws to ban it.
► From the LA Times — Low wages, short hours drive many fast-food workers into homelessness — Fast-food workers make up 11% of all homeless workers in California and 9% in Los Angeles County, according to a new report. It estimated that there are 10,120 fast-food workers in California who are homeless.
---
STARBUCKS

► From More Perfect Union —
NEW: Starbucks founder Howard Schultz had a meltdown when questioned by the Senate about union-busting. Then he sought revenge.

Multiple workers were fired, including the founder of @SBWorkersUnited. The company also disciplined workers who dared to speak to Schultz in public. pic.twitter.com/GcaD46u459

— More Perfect Union (@MorePerfectUS) May 1, 2023
EDITOR'S NOTE — Meanwhile, the beat goes on…
This May Day, we have not one, not two, not three, not four, BUT FIVE STORES FILING FOR UNION ELECTIONS!!!

— Starbucks Workers United (@SBWorkersUnited) May 1, 2023
---
The Stand posts links to Washington state and national news of interest every weekday morning by 10 a.m.
WASHINGTON IS A UNION STATE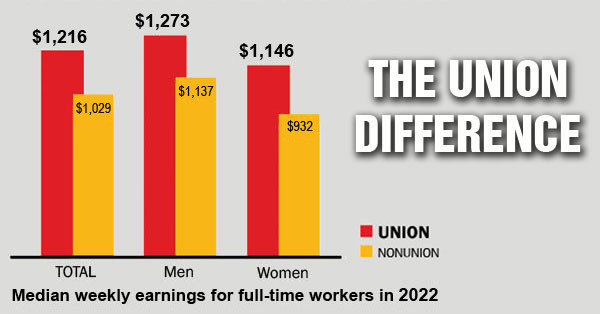 CHECK OUT THE UNION DIFFERENCE in Washington state: higher wages, affordable health and dental care, job and retirement security.
FIND OUT HOW TO JOIN TOGETHER with your co-workers to negotiate for better working conditions and respect on the job. Or go ahead and contact a union organizer today!