'Be ready to leave' | Homegrown contract now! | Unions are on a roll
Tuesday, August 22, 2023
---
WILDFIRES
► From the AP — 2nd person found dead in eastern Washington wildfires — A second person has died in wildfires in eastern Washington state that ignited on Friday, burning hundreds of structures and closing a section of a major interstate for days, fire officials said. Gov. Jay Inslee visited the burned areas Sunday and declared a statewide emergency. Those fires have destroyed at least 265 structures and, together with others, have burned more than 53 square miles combined around the state this year.
► From KOMO — 'Be ready to leave': Estimated 5,000 people displaced from Gray Fire in Spokane County — As of 3:30 p.m. on Aug. 21, most Level 3 evacuations for the Gray Fire were downgraded to Level 1.
The Stand (Aug. 21) — Disaster relief from wildfires available for union members — Union members: If you and your family are experiencing hardship as a result of wildfires or some other natural disaster in Washington state, the Washington State Labor Council, AFL-CIO urges you to apply for disaster relief from the Foundation for Working Families.
CONTRIBUTE! — The WSLC continues to urge all organizations and individuals interested in helping union families suffering from a natural disaster or economic hardship to make contributions to the Foundation for Working Families. Make your contribution online or mail a check to the Foundation for Working Families, 321 16th Ave S., Seattle, WA, 98144. The FFWF is a 501(c)(3) organization and all donations are tax-deductible charitable contributions.
► From KXLY — Firefighters work through physically and mentally tough days — Crews fighting the Gray Fire since Friday start and end their days at Cheney Middle School. They're working tirelessly through the heavy smoke, wind and flames to save what's left of the Medical Lake community.
---
LOCAL
The Stand (Dec. 13, 2022) — Homegrown cafe workers vote Union Yes! — Now 2-for-2 on union votes, sandwich workers are ready to bargain fair contracts.
► From My Northwest — King County Metro union increases salaries, training with new 3-year labor deal — King County Metro and its largest union, ATU Local 587, finalized a new three-year labor contract that increases wages by approximately 17% over the life of the contract. The agreement also includes a lump sum retroactive payment, a retention bonus of $2,500, and a one-time $2,500 ratification signing bonus.
The Stand (Aug. 18) — Bonuses, raises for Metro transit operators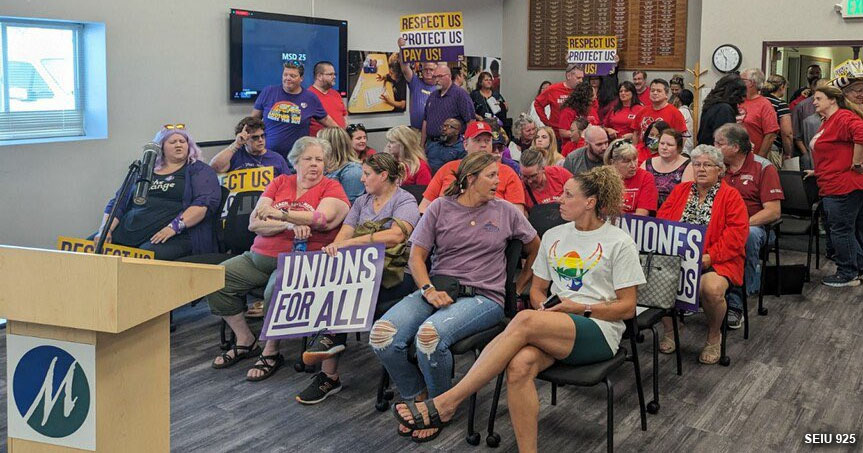 ► From Q13 — 'Marysville deserves better': SD reveals school budget proposal to address $18M budget deficit — A new school budget proposal for the Marysville School District was unveiled Monday night to address an $18 million budget shortfall heading into the new school year. Educators, staff and supporters packed the Marysville School District Board Room to share their concerns over the budget, contracts and calling for more clarity.
► From the PS Business Journal — Lakewood clears way for early work on Western State Hospital expansion — The city has issued permits to demolish 11 buildings on the campus to make way for the construction. Work on the over $600 million project is expected to begin this year.
► From the Spokesman-Review — Woodward faces condemnation after appearing on stage with Matt Shea at Christian nationalist event — Spokane Mayor Nadine Woodward is facing calls for her resignation after she appeared on stage Sunday night and received a blessing and endorsement from former state Rep. Matt Shea, a controversial figure and religious extremist. It came as smoke from fires in Medical Lake, Elk and elsewhere shrouded the city.
---
THIS WASHINGTON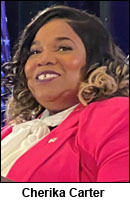 ► From Yahoo Finance — Tech policy leaders explore new frontiers for supporting (and regulating) AI at forum — Sen. Maria Cantwell's forum provided an opportunity for AI startups in Washington state to show how their ventures could bring fresh innovations to a wide variety of fields — and provided an opportunity for leaders from government, academia, industry and labor to lay out their ideas for supporting and regulating AI. Cherika Carter, secretary-treasurer of the Washington State Labor Council, AFL-CIO, noted that generative AI is a big issue in one of the country's highest-profile work stoppages, involving Hollywood actors and writers. When it comes to dealing with the effects of AI in the workplace, "working people must be at the center of the conversation," she said.
---
EAST OF THE BORDER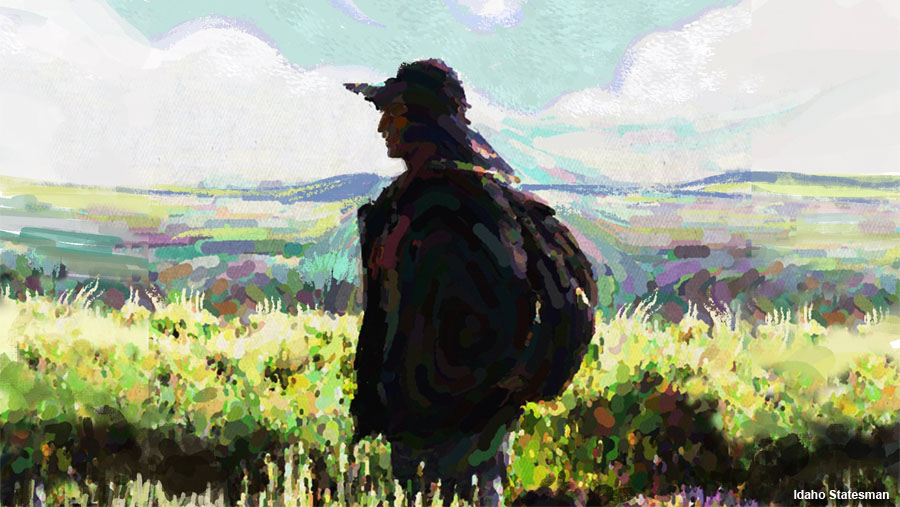 ► From the Idaho Statesman — These foreign workers have some of the hardest jobs in Idaho. Are they mistreated, too? — John Anchustegui was one of six sheep ranchers in the past decade who faced worker complaints in Idaho. Four ranchers were sanctioned with fines after investigations. Only one stopped getting help from the state labor department to procure more workers through the federal H-2A visa program. Advocates say the complaints show a persistent pattern of exploitation in an industry, with limited oversight, that employs some of the most vulnerable workers in the country — workers isolated, without social networks, who often don't speak English.
---
THAT WASHINGTON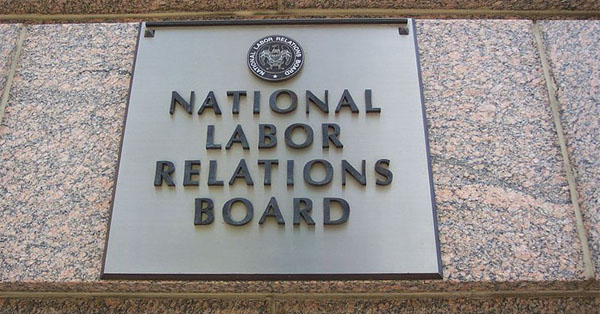 ► From Bloomberg Law — Pro-union shift expected with Labor Board member's pending exit — The National Labor Relations Board is poised to release a number of decisions in the next two weeks with the potential to significantly alter the nation's labor doctrine in favor of unions, as Democratic board member Gywnne Wilcox's term draws to a close later this month. The cases, which have been fully briefed, are part of an effort NLRB General Counsel Jennifer Abruzzo outlined two years ago to overturn roughly 50 board precedents.
► From Roll Call — Families, states chart path forward on paid caregiving — During the declared emergency, federal and state governments were permitted to temporarily waive laws preventing Medicaid payments to "legally responsible individuals" — namely, parents of minor children and spouses providing personal care services like bathing, dressing and feeding to their disabled relatives. The change has left thousands of families throughout the country navigating questions and uncertainty as states debate how to move forward, with families hoping for permanent programs that pay them to care for their children and spouses — especially as shortages of direct care workers continue.
► From Reuters — Some U.S. airline pilots fight their unions to increase retirement age — ALPA and other pilot unions oppose a bill in the U.S. Congress that seeks to raise the retirement age for commercial airline pilots to 67 from 65, arguing it will "introduce new risk" into the aviation system as no safety agency has studied its implications.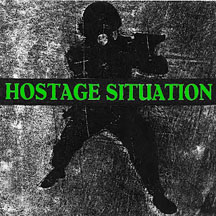 ► From the AP — Group of House conservatives unveils demands to support spending bill and avoid shutdown — House conservatives in a group known as the Freedom Caucus have unveiled a list of demands that they want included in a stopgap spending measure to keep the federal government running after the end of September. They include building more border wall, less defense aid for Ukraine, and ending political "witch hunts" by the FBI and Justice Department.
EDITOR'S NOTE — Is there any wonder why the U.S. credit rating has been lowered when these threats of shutdown and default have become routine?
► From The Hill — Biden admin launches new income-driven student loan repayment program — The official launch of the Saving on a Valuable Education (SAVE) plan comes just weeks before interest will begin to accrue on student loans for the first time in more than three years in September. Repayments will resume in October, although no financial consequences will come to borrowers if they are unable to pay for up to a year.
---
NATIONAL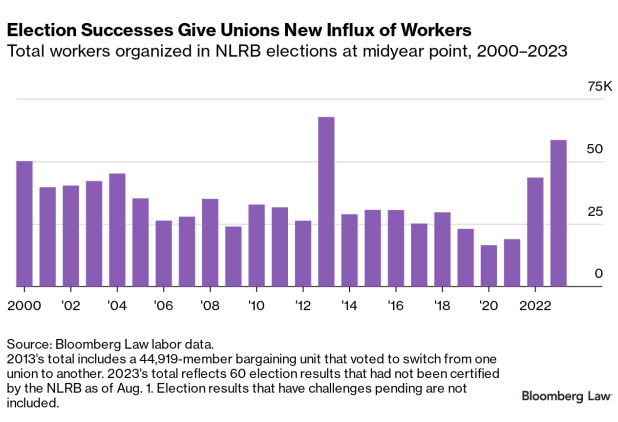 ► From Bloomberg Law — Analysis: Unions, on a roll, are reeling in the workers — Labor unions successfully organized more than 58,000 workers through the National Labor Relations Board's election process in the first six months of 2023, a massive influx of workers on a scale that we've rarely seen before—but that we're likely to see again. The sheer number of union wins so far this year, surpassing even last year's Starbucks-studded total, makes it plain that this current wave of organized workers is no fluke.
EDITOR'S NOTE — Join the wave and gain a real voice at work! Get more information about how you can join together with co-workers and negotiate a fair return for your hard work. Or go ahead and contact a union organizer today!
The Stand (Aug. 21, 2023) — Show your solidarity with SAG-AFTRA, WGA strikers Tuesday
TAKE A STAND — There will be a Solidarity Rally in Seattle to support the strikers. All union members and community supporters are urged to join the rally from 6 to 7 p.m. at Volunteer Park's Amphitheater, 1247 15th Ave E. in Seattle. (If you are outside Washington, click here to find a picket/rally near you.)
► From the AP — Rail whistleblowers fired for voicing safety concerns despite efforts to end practice of retaliation — Lawyers and unions representing rail workers say there is an industry-wide pattern of retaliation against workers who report safety violations or injuries. They contend workers often run afoul of managers who don't want to jeopardize their bonuses, and retaliation discourages other workers from speaking up.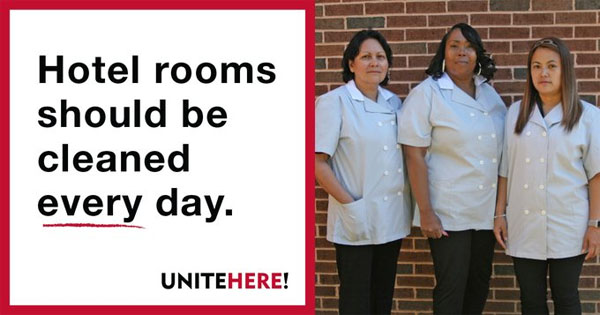 ► From the USA Today — Some Hilton hotels to bring back daily housekeeping. See how other hotel policies compare. — Hilton will begin offering automatic daily housekeeping at its luxury, full-service, lifestyle brands as well as its Embassy Suites hotels worldwide this fall. Other brands within the U.S. and Canada, including extended-stay hotels, will receive automatic service every other day.
The Stand (Sept. 15, 2021) — Tell Hilton: Hotel rooms should be cleaned every day
► From Mother Jones — Healthcare companies are using debt to trap nurses on the job — In recent years, employers of low- and middle-income workers have increasingly turned to debt-based contracts as a new way to prevent attrition from difficult, dangerous, or just plain bad jobs.
► From Vox — How housing activists and unions found common ground in California — A major sea change is happening across California, with some unions now either actively supporting the major housing bills winding their way through the legislature, or otherwise signaling that they'll no longer fight them. This shift in pro-construction, "Yes in My Backyard" (or YIMBY) politics has been dramatic, and one that hardly anyone foresaw just three years ago.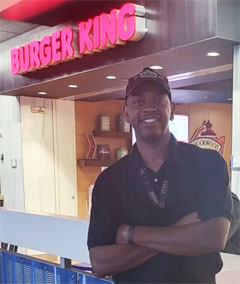 ► From NPR — Burger King gave candy to a worker who never called in sick. The internet gave $400,000. — As a single father with three daughters, Kevin Ford never took sick days because frankly, he couldn't afford to. Ford's job — like more than half of restaurant and accommodation jobs as of 2020 — does not offer paid sick leave, meaning workers typically do not get paid for missing work due to illness unless they dip into their paid vacation time. Ford said he only ever missed work for medical reasons twice in his Burger King career — once for a surgery related to his sleep apnea, another for a spine procedure caused by working long hours on his feet. Even then, he used his vacation days to take that time off.
---
The Stand posts links to Washington state and national news of interest every weekday morning by 10 a.m.
Short URL: https://www.thestand.org/?p=119206
Posted by
David Groves
on Aug 22 2023. Filed under
DAILY LINKS
. You can follow any responses to this entry through the
RSS 2.0
. Both comments and pings are currently closed.